China Custom Clear Acrylic Flower Box Solutions Supplier
JAYI ACRYLIC is known in China for our quality products, and the acrylic flower box with cover dividers is recognized in the market for its durability, resistance to breakage, and elegance in look. We offer custom design and logo printing free of cost. We are sure to meet and exceed your expectations. If you are not sure where to start, please contact us for a free consultation.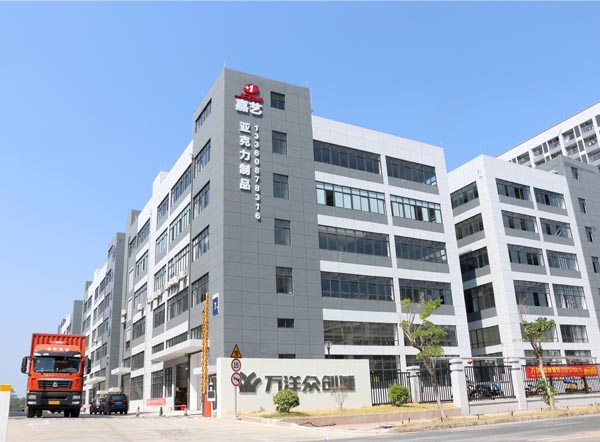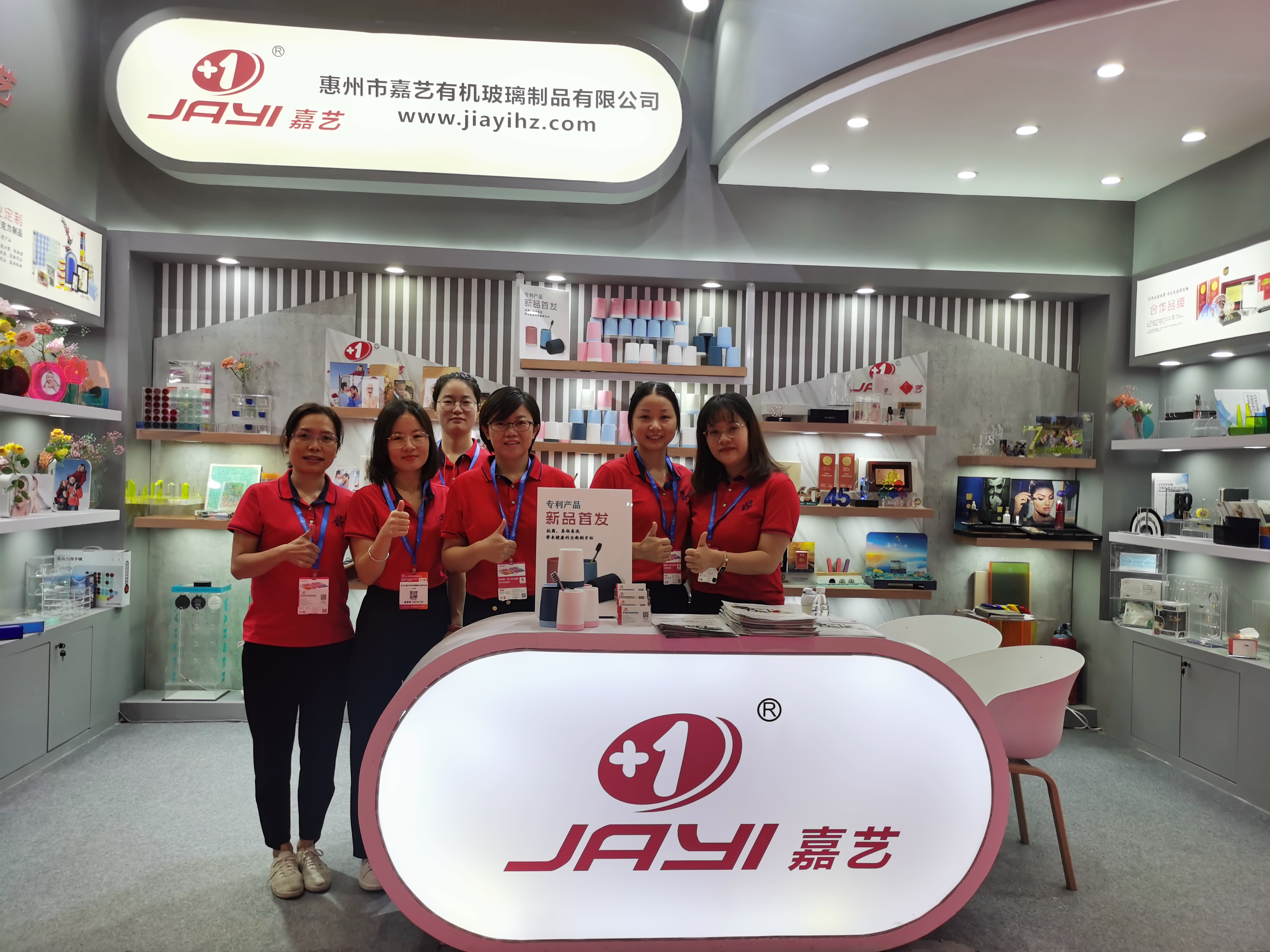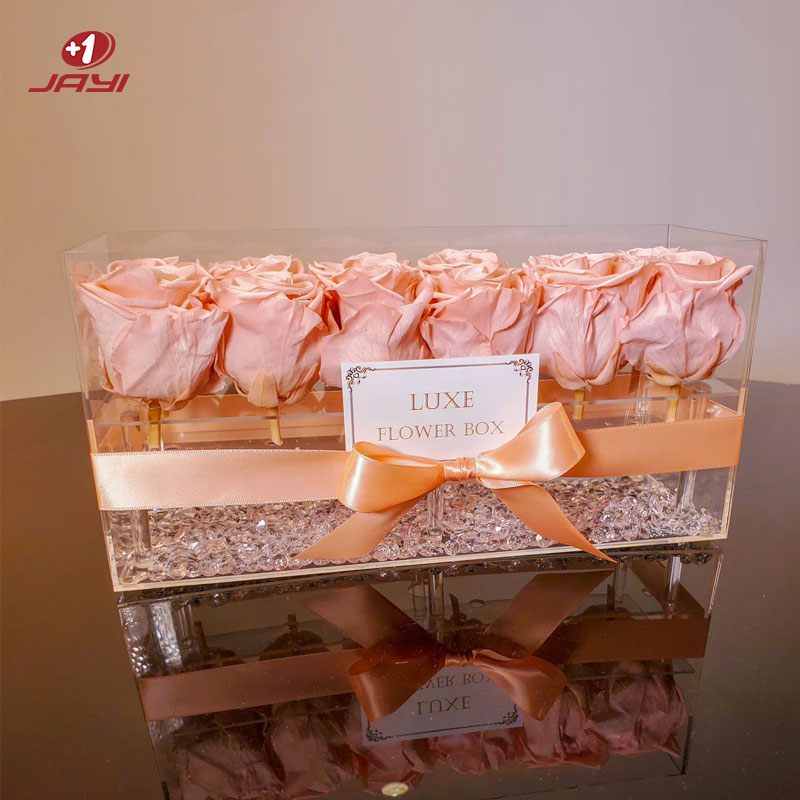 Acrylic Flower Box Custom
This is a beautiful rectangle acrylic flower box. The transparent material allows you to clearly see the flowers inside the box. The box is beautifully designed, smooth, burr-free, and very durable. It can perfectly decorate any room and keep your flowers fresh and beautiful. It is the right size to accommodate flowers of all sizes. This is a very practical and delicate acrylic flower display box that makes an excellent gift for family and friends.
Custom Your Acrylic Flower Boxs
JAYI ACRYLIC provides exclusive designers for all of your acrylic flower boxes. As a leading manufacturer of custom acrylic products in China, we are pleased to help you provide high-quality acrylic flower boxes suitable for your business.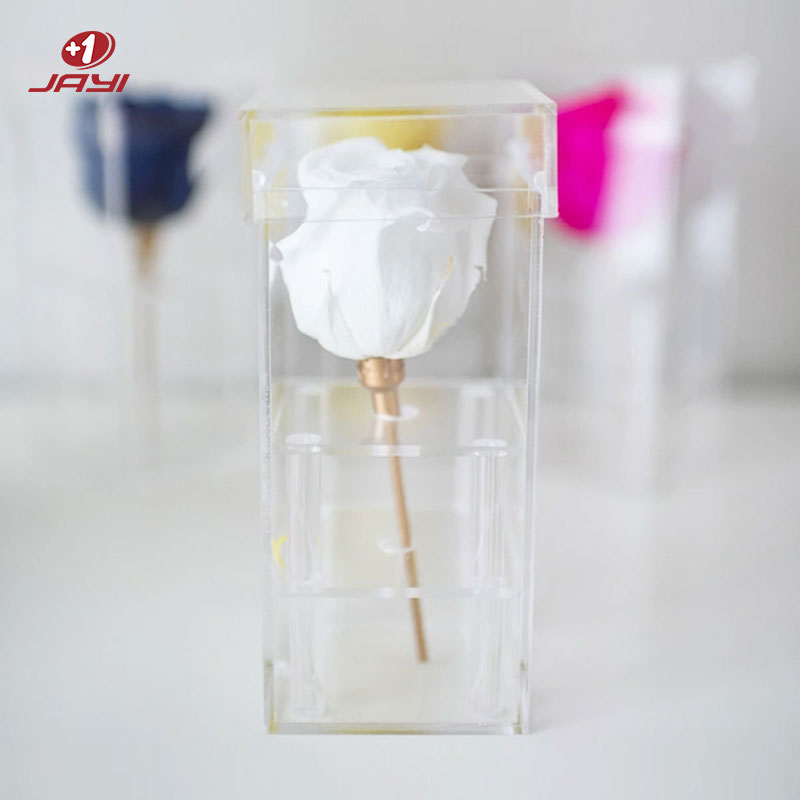 An acrylic flower box is a container used to hold flowers, usually made of transparent acrylic material. Acrylic flower boxes have the general characteristics of acrylic, such as high mechanical strength, good durability, excellent insulation properties. Its high transparency, can well show the color and shape of flowers, giving people a visual enjoyment. Acrylic flower boxes are widely used in shopping malls, florists, families and other places.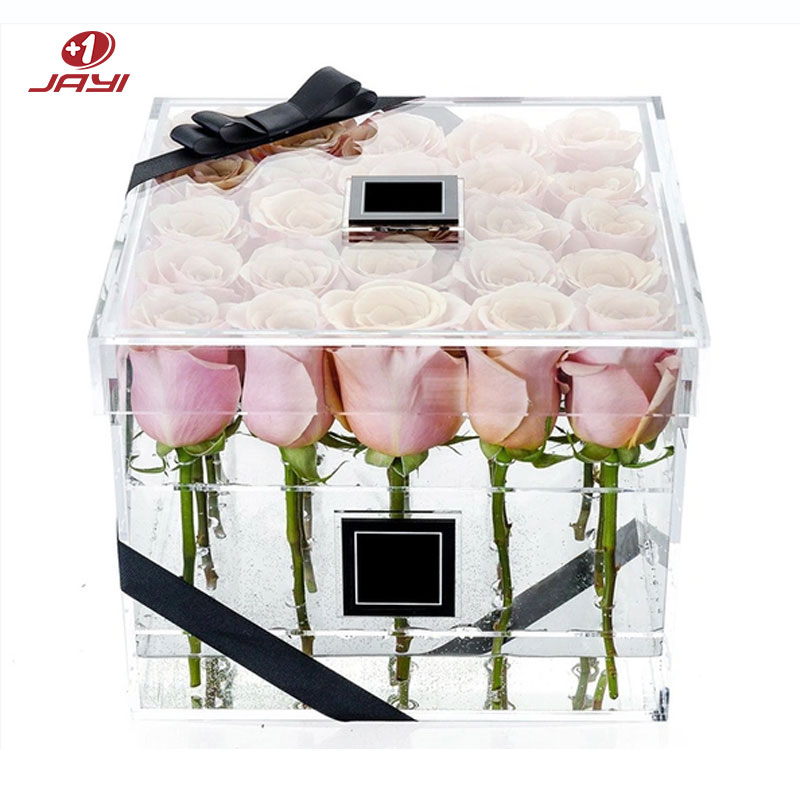 Acrylic flower box is a storage box that can be used to store and display trinkets. This 25-hole acrylic flower box is made of acrylic, which is a transparent plastic material. This flower box has 25 round holes of different sizes for storing earrings, rings, brooches, and other small accessories. Each hole has an acrylic plug that can be inserted to keep the jewelry from slipping off.
The entire flower box is rectangular shape, looks very delicate. The bottom of the box has a non-slip rubber pad to prevent sliding on the desktop. This 25-hole acrylic flower box is not only functional, but also meets people's needs for beauty and neatness. It is ideal for jewelry and accessories collection, and can also be given as a gift. Overall, this is a well-designed, practical and beautiful storage box.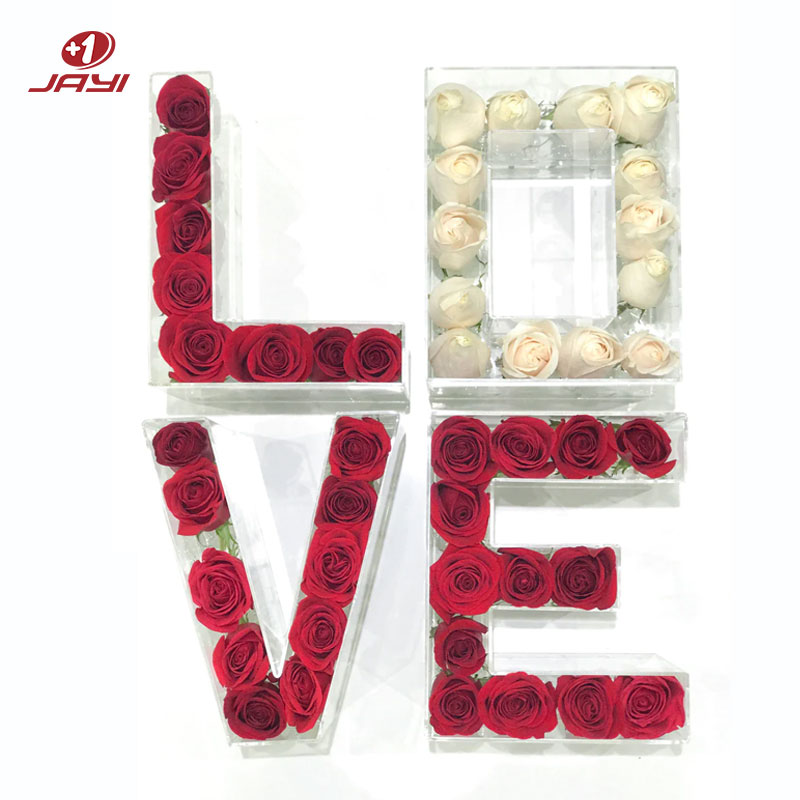 L O V E acrylic flower display box, thanks to its uniqueness, you'll give a romantic and chic twist to your room, bedroom, dressing table, restaurant, office, or retail store. Make an impression and fall in love with our trendy flower box. The rose flower box is suitable for many scenarios, such as a wedding date, or candlelight Dinner.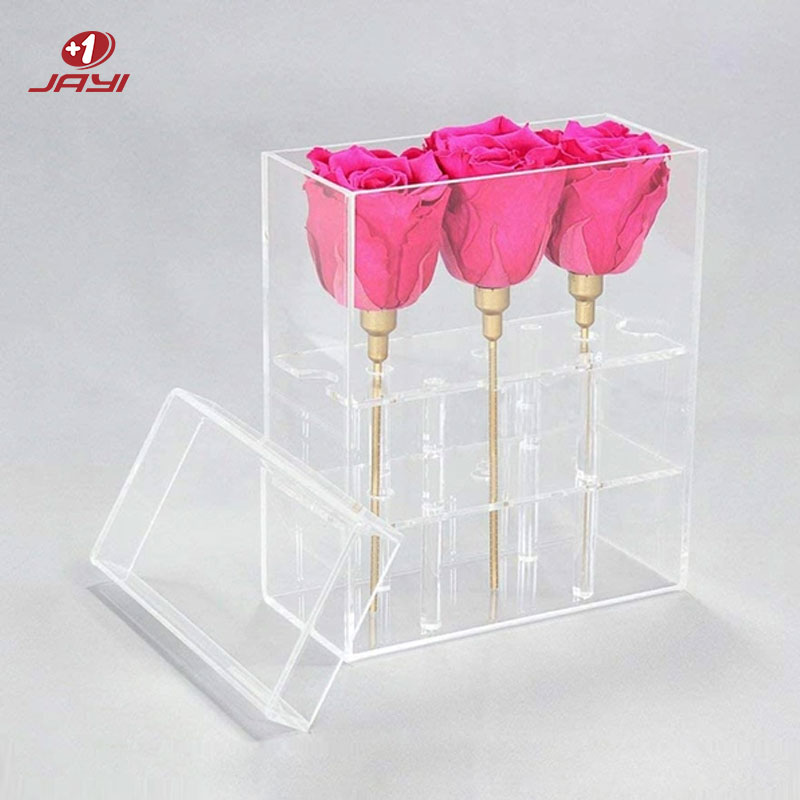 3 hole acrylic flower boxes are non-toxic, environmentally friendly and waterproof, High transparency acrylic can be viewed from different angles. They are suitable for flowers such as roses, high transparent acrylic flower pots, creating a new trend of flower delivery, symbolizing true love.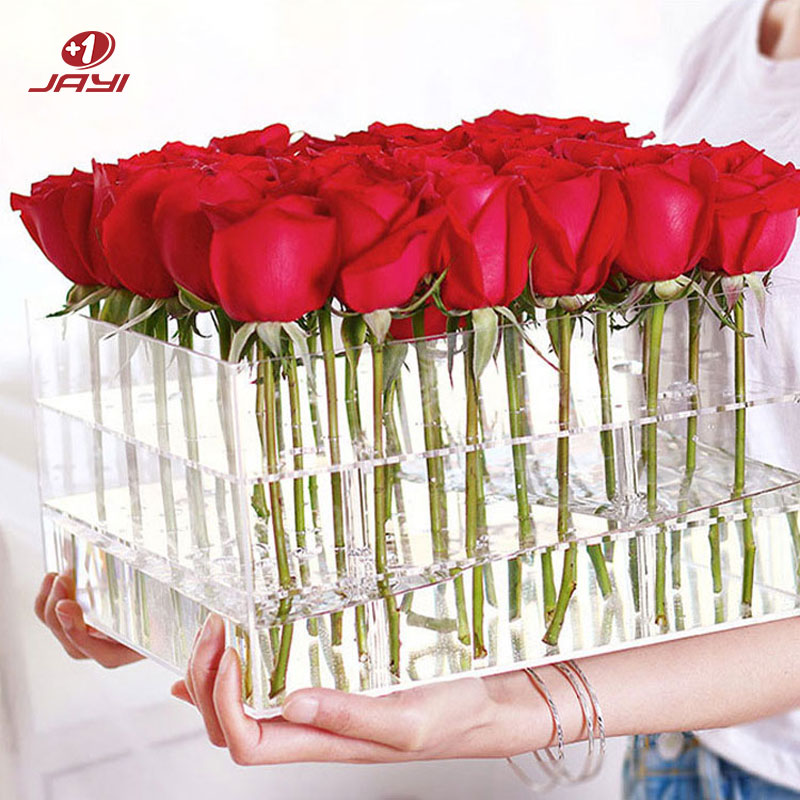 The 36-hole acrylic flower box is a clear plastic box for storing and displaying flowers. It is made of acrylic plastic and has 36 round holes, each of which is suitable for placing a single flower. This kind of flower box not only allows flowers to have a neat and elegant container but also can maximize the display of flowers' color and shape, making it more eye-catching and decorative.
The 36-hole acrylic flower box has a simple and elegant design and can be placed on a table, windowsill, or wall. Its acrylic material ensures the freshness of the flowers and does not produce odor. 36 round holes of the same size allow the flowers to be arranged in a symmetrical and neat manner, giving a soothing aesthetic enjoyment. This transparent flower box is ideal for decorating homes, offices, and stores, as it gives great satisfaction both functionally and aesthetically. Its simple and generous design style can also be matched with a variety of different themes of decorative style.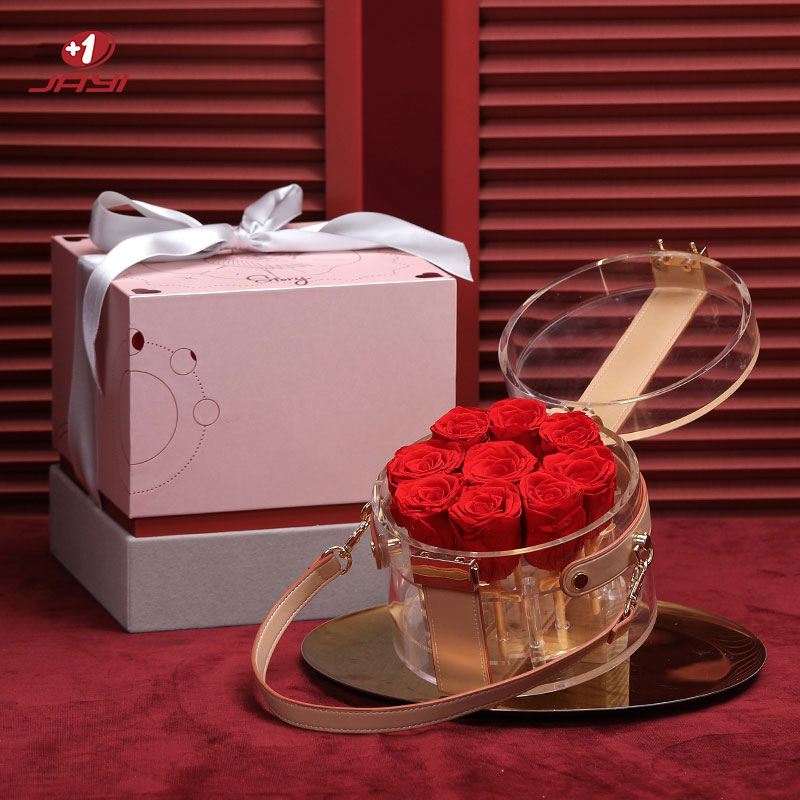 Round acrylic flower box is a cute and practical box. It is made of transparent acrylic material, the shape is cylindrical. The lid of the box is also round, can completely cover the base, keeping the items inside from the outside world. Acrylic flower boxes can be placed on desk decoration, can also be used to store some small objects, such as paper clips, rubber bands, thumb tacks, etc.. The surface of the flower box is printed with a beautiful flower pattern, looks very delicate. Because acrylic is a light and strong material, this round flower box is both unique in style and very practical. With its unique shape and beautiful appearance, it can add color and life to any space. Overall, the round acrylic flower box is both a decorative piece and a container for storing small objects, very practical and beautiful.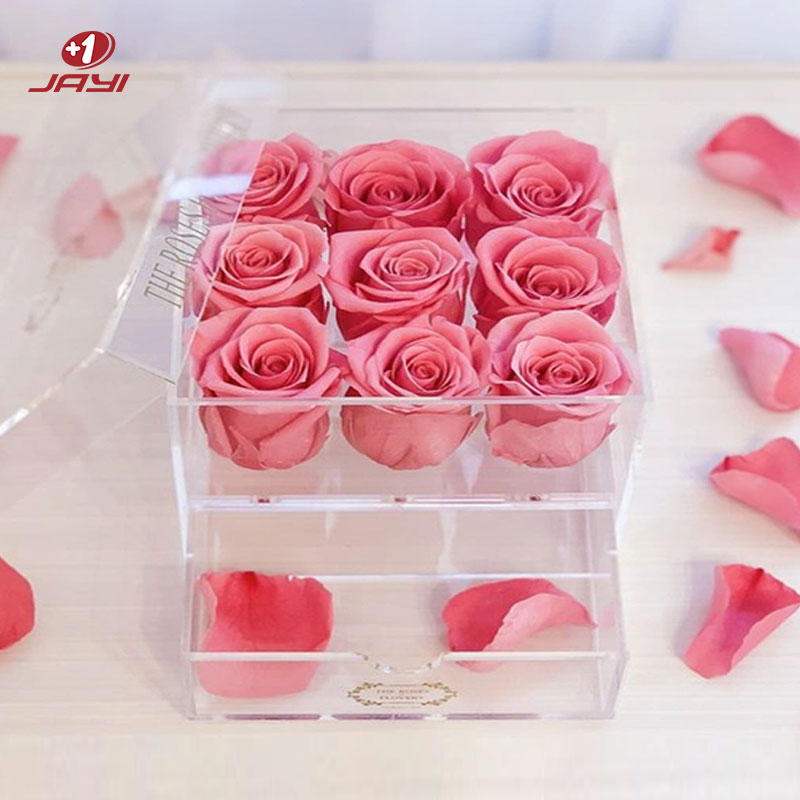 The 9-hole acrylic flower box is an exquisite decorative box. The transparent acrylic material allows people to clearly see the flowers inside the box. The flower box is designed with nine holes for nine flowers, and each hole is deep enough to accommodate long-stemmed flowers. The bottom of the box is open for easy adding water and changing flowers. This flower box can not only be used for home decoration but can also be given as gifts to friends and loved ones, making it a practical and beautiful piece of art.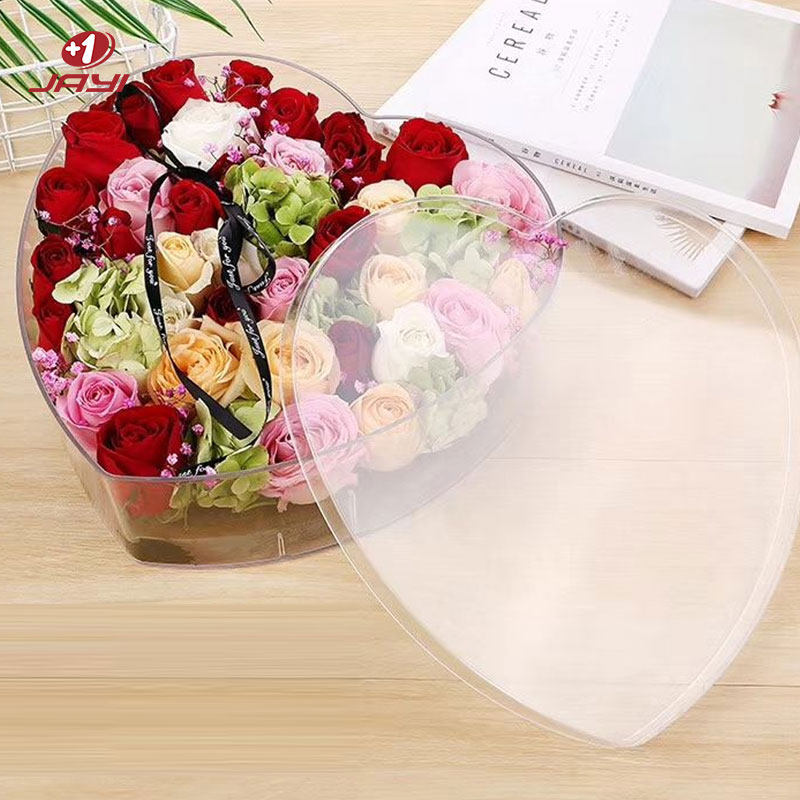 Heart-shaped acrylic flower box is a very romantic gift. It is handmade from high-quality clear acrylic material, presenting a crystal clear effect. The shape of the box is a beautiful heart shape, blooming rose flower pattern printed on the acrylic surface, like a blooming flower frozen on the box. Open the box, inside is spacious enough to put in many small objects, such as chocolates, jewelry and so on. The entire box emits a faint fragrance of roses. This heart-shaped acrylic flower box is the perfect gift for your loved one, it is beautiful, exquisite and romantic atmosphere. Wherever it is placed is a beautiful scenery.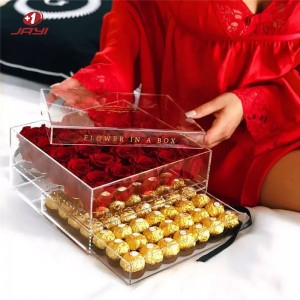 This is an acrylic flower box with drawers. Acrylic is a transparent synthetic resin material, this flower box looks very delicate. Acrylic has a total of two layers, the first layer can put flowers on display, and the second layer can put some small items, such as chocolate, cosmetics, and so on.
There is a small handle at the front of the drawer to pull it out easily. The whole flower box is durable and the drawers slide smoothly. It is not only practical but also can be used as an ornament to decorate the desk. This acrylic flower box with a drawer will be one of the most practical and beautiful items on your desk.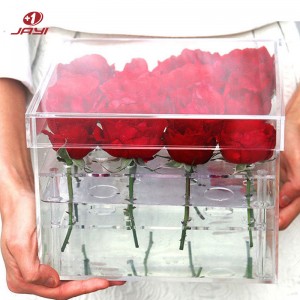 A 12-hole acrylic flower box is a practical artifact that can be used to store and display small items. It consists of 12 slots of different shapes and sizes, each of which can hold a flower made of acrylic material. Acrylic flowers of different shapes, rose shape, lily shape, and platycodon shape. Create a beautiful floral theme by placing 12 different acrylic flowers in a 12-hole acrylic flower box in order of size. The product is not only elegant, but also clear and transparent acrylic material, can let a person clearly see each flower inside, extremely ornamental. A 12-hole acrylic flower box is both a work of art and a great tool for storing small decorations, suitable for decorating homes and shops.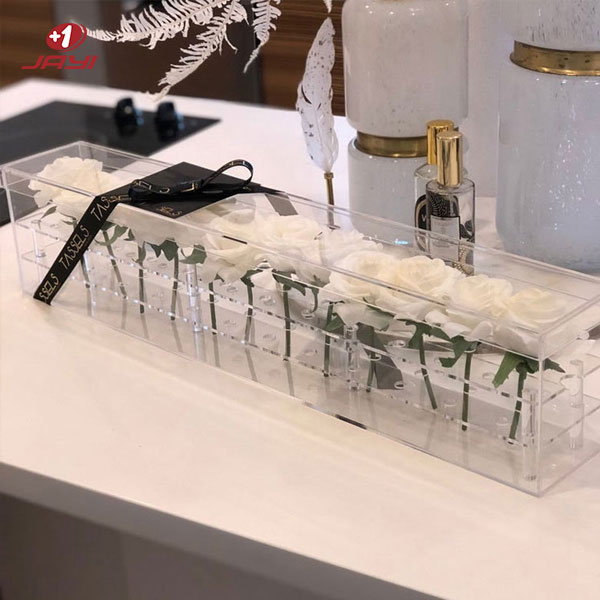 Rectangular acrylic flower box is a transparent box, made of acrylic material. This box has four right angles, two long sides, and two short sides. The long side is usually between 10 and 30 cm, and the short side is between 5 and 15 cm, depending on the size of the box for different purposes.
Acrylic flower boxes usually have patterns and designs on the surface, such as wave patterns, dots, squares, and so on. The pattern can be formed by first printing the pattern on the acrylic sheet used to make the box, and then cutting, folding, and gluing the sheet. This pattern printing can make each box looks different, more lovely, and more personalized.
Rectangular acrylic flower boxes due to the transparency of the material can be a good display of the goods in the box, but also according to the need to place cardboard inside for decoration. This box can be used for decorative items, gifts, snacks, and another packaging, but also commonly used in restaurants or stores to display. Its personalized, lovely appearance and high-quality materials make this box very popular in the field of gift and commercial packaging.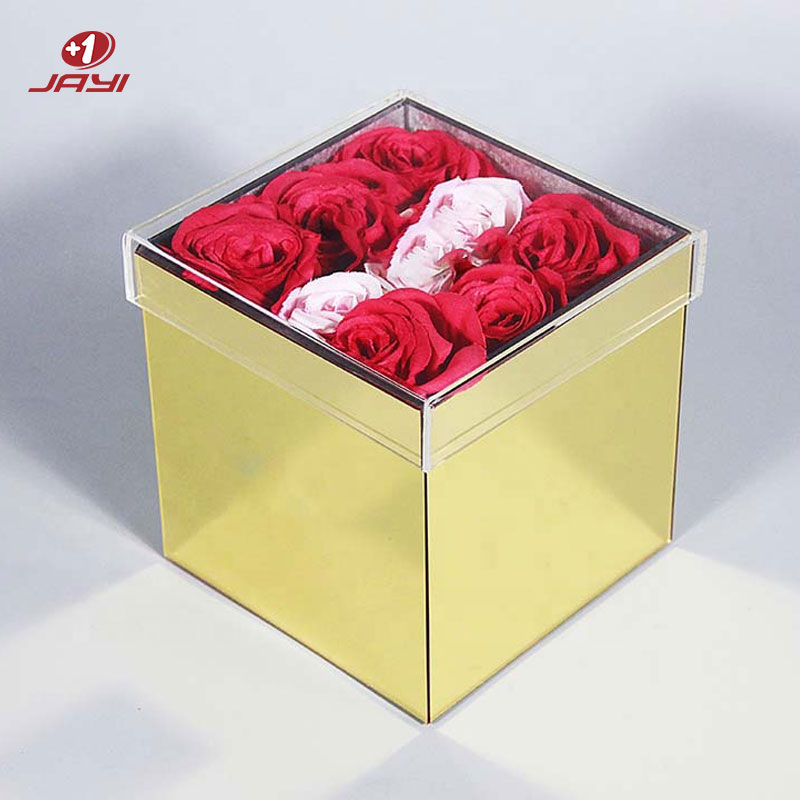 This is a delicate gold mirror acrylic flower box. The acrylic material has a golden luster, surrounded by shiny mirror decoration. The surface of the box is carved with a complex pattern, like a rose in full bloom. When the light shines on the flower box, the entire box will emit a warm golden light, and every detail of the pattern will be infinitely magnified, presenting a mysterious and fantastic effect. This acrylic flower box is not only beautiful in appearance, but the interior is also exquisite, you can place some small accessories or jewelry. It is a very artistic decorative piece, which can add color to any occasion.
Advantages of Our Custom Clear Acrylic Flower Box
Are you looking for a trustworthy and long-term cooperative acrylic flower box custom wholesale supplier? We are one of the largest custom acrylic box sellers in China, we can offer you the best wholesale price; the best service; the highest quality products. We will do our best to professionally make custom acrylic flower boxes in the size you need.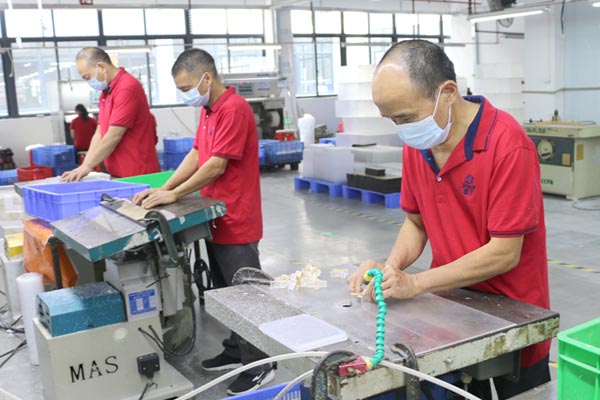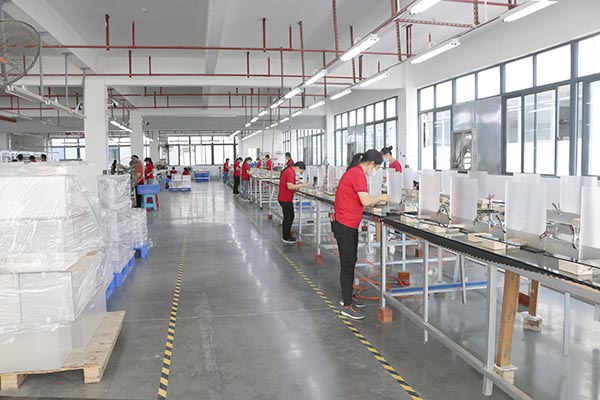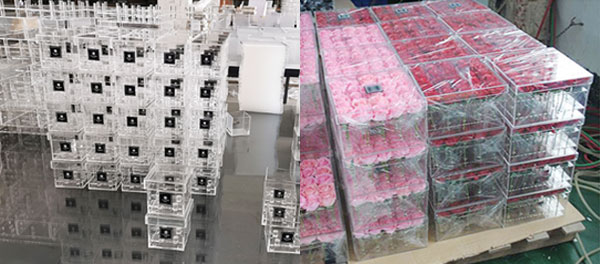 How to Custom Acrylic Flower Box?
Just 8 Easy Steps to Start Your Project
Size:  We will ask you about the size of the acrylic flower box. To ensure that the product size is the size you want. Usually, you need to specify whether the size is internal or external.
Delivery Time: How soon would you like to receive the customized acrylic flower box? This is important if this is an urgent project for you. Then we'll see if we can put your production before ours.
Materials Used: We need to know exactly what materials you want to use for your product. It would be great if you could send us samples to examine the materials. That would be very helpful.
In addition, we need to confirm with you what kind of LOGO and pattern you want printed on the surface of the acrylic flower box.
Based on the details you provided in Step 1, we will provide you with a quote.
We are a supplier of customized Acrylic products such as acrylic flower boxes in China.
Compared with small manufacturers and factories, we have huge price advantages.
Samples are very important.
If you get a perfect sample, then you have a 95% chance of getting a perfect product in the batch production process.
Usually, we charge a fee for making samples.
After we confirm the order, we will use this money for your mass production cost.
We need about one week to make the sample and send it to you for confirmation.
After you confirm the sample, things will go smoothly.
You pay 30-50% of the total production cost, and we start mass production.
After the mass production, we will take high-definition pictures for your confirmation, and then pay the balance.
Even if you order more than tens of thousands of units, this usually takes about a month.
JAYI ACRYLIC is proud of its ability to produce acrylic flower boxes and other customized acrylic Box products.
Even the product requires a lot of manual work.
After the completion of mass production, you are welcome to visit our factory.
Usually our clients ask us to take high-quality photos for them to confirm.
Some of our clients have an agency that inspects their goods for them. And the cost is often very high.
With regard to shipping, all you need to do is find a good shipping agent to handle shipping acrylic flower boxes for you. If you don't want to worry about it, we can recommend you a freight forwarder for customers in your country/region. This will save you money.
Please inquire about the freight: The freight will be charged by the shipping agency and calculated according to the actual volume and weight of the goods. After mass production, we will send the packing data to you, and you can inquire with the shipping agency about the shipping.
We issue the manifest: After you confirm the freight, the freight forwarder will contact us and send the manifest to them, then they will book the ship and take care of the rest for us.
We send you the B/L: When everything is finished, the shipping agency will issue the B/L about a week after the ship leaves the port. Then we will send you the BILL of LADING and telex together with the packing list and commercial invoice for you to pick up the goods.
  Still confused by the custom acrylic flower box ordering process? Please contact us immediately.
Don't You Find What You Are Looking For?
Just tell us your detailed requirements. The best offer will be provided.
Professional Custom Acrylic Products Manufacturer
 Jayi Acrylic was founded in 2004, as a leading manufacturer of customized acrylic products in China, we have always been committed to acrylic products with unique design, advanced technology, and perfect processing.
We have a factory of 6000 square meters, with 100 skilled technicians, 80 sets of advanced production equipment, all the processes are completed by our factory. We have a professional design engineering research and development department, and a proofing department, that can design free of charge, with fast samples, to meet the needs of customers. We have a variety of exquisite modeling of acrylic boxes, acrylic display racks, acrylic games, acrylic home storage, acrylic office storage, and acrylic pet products for your choice.
Custom Rectangular Acrylic Flower Rose Box
* Want To Show Love And Appreciation To Your Guests? If you're looking for a great way to showcase your favorite flowers in a centerpiece in your home decor or create the most luxurious and elegant atmosphere at your wedding table, this 24-HOLE vase makes the perfect pick. It is sure to strike a statement with your family and friends.
* Don't Worry About Breaking - As this contemporary Rectangle Flower Vase is made of 100% acrylic, it is durable, lightweight, and EASIER TO CLEAN compared to its glass alternatives.
* Great Alternative To Tall Vases - Choosing the right height for your centerpiece is important. With this low-laying acrylic vase, it becomes easy for the guests to interact with each other. Also, They look beautiful with all different types and different sizes of flowers, fresh or artificial floral arrangements.
Custom Square Acrylic Flower Rose Box
* DURABLE CONSTRUCTION: Made from premium acrylic! This clear acrylic flower box elegantly displays fresh flowers while providing a scratch-resistant and shatterproof construction.
* CUSTOM FLOWER HOLE COUNT: Create a one-of-a-kind centerpiece! The number of flower holes can be customized according to your needs. This clear flower box fashionably displays gorgeous flowers such as roses, peonies, lilies, and more.
* INTERIOR PANEL: Featuring an interior panel that sturdily holds the stem and a lower compartment that can be filled with water, this acrylic box for flowers keeps flora fresh. Show off your flowers!
* LID INCLUDED: Protect your floral arrangements! This clear rose box includes a specially fitted lid to encase your flowers and prevent water from leaking out when transporting them to events.
Why Do You Choose The Jayi Acrylic?
What makes us the best acrylic flower box manufacturer
Frequently Asked Questions About Custom Acrylic Flower Box
1. Can I order one piece for a sample to test the quality?
Yes. We recommend checking the sample before mass production. Please inquiry us the about the design, color, size, thickness and etc.
2. Could you do a design for us?
Yes, We have a professional team having rich experience in mock-ups. Please tell me your ideas and we will help to realize your designs perfectly. Just send us high-resolution images, your logo, and text, and tell me how you would like to arrange them. We will send you the finished design for confirmation.
3. How long can I expect to get the sample?
After you pay the sample fee and send us the confirmed files, the samples will be ready for delivery in 3-7 days.
4. How and when can I get the price?
Please send us the details of the item, such as dimensions, quantity, crafts finishing. We usually quote within 24 hours after w get your inquiry.If you are very urgent to get the price, please call us or tell us your email,so that we will give priority to your inquiry.
5. Can you realize our Customized Design or put our Logo on the product?
Sure, we can do this in our factory. OEM or/and ODM are warmly welcomed.
6. What kind of files do you accept for printing?
PDF, CDR, or Ai. Semi-Automatic PET Bottle Blowing Machine Bottle Making Machine Bottle Moulding Machine PET Bottle Making Machine is suitable for producing PET plastic containers and bottles in all shapes.
7. Which kind of payment do you support?
We can accept PayPal, bank transfers, western union, etc.
8. What's the shipping cost?
Usually, we ship the acrylic flower box by express, such as Dedex, TNT, DHL, UPS, or EMS. We will offer you the best package to protect your goods.
Large orders must use sea shipping, we can help you handle all kinds of shipping documents and procedures.
Please let us know the quantity of your order, as well as your destination, then we can calculate the shipping cost for you.
9. How can you make sure we will receive the products with high quality?
( 1 ) High-quality international standard materials.
( 2 ) Skillful workers with rich experience for more than 10 years.
( 3 ) Strictly quality control for each production process from material purchasing to delivery.
( 4 ) Production images and videos can send you as soon as fastest.
( 5 ) We also warmly weclome you visit to our factory anytime.
Certificates From Acrylic Flower Box Manufacturer And Factory
We are the best wholesale custom acrylic factory in China, we provide quality assurance for our products. We test the quality of our products before final delivery to our customers, which also helps us maintain our customer base. All of our acrylic products can be tested according to customer requirements (eg: ROHS environmental protection index; food grade testing; California 65 testing, etc.). Meanwhile: We have SGS, TUV, BSCI, SEDEX, CTI, OMGA, and UL certifications for our acrylic storage box distributors and acrylic display stand suppliers around the world.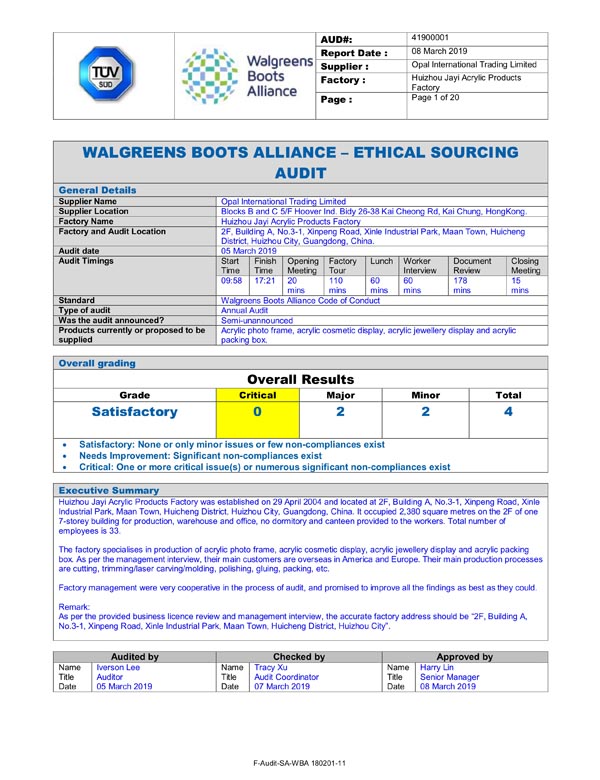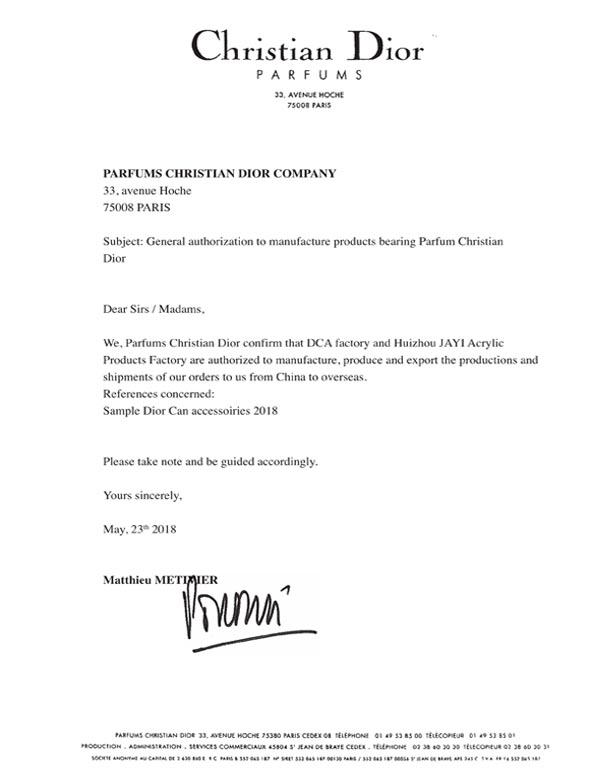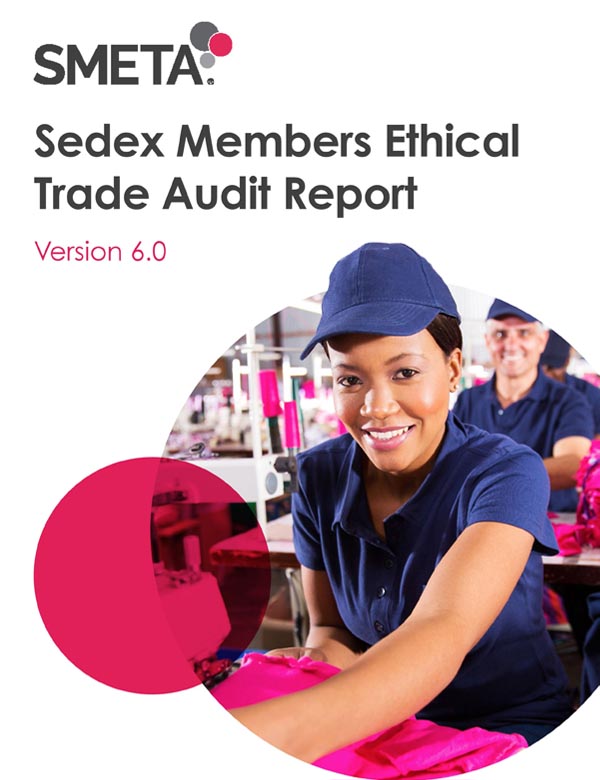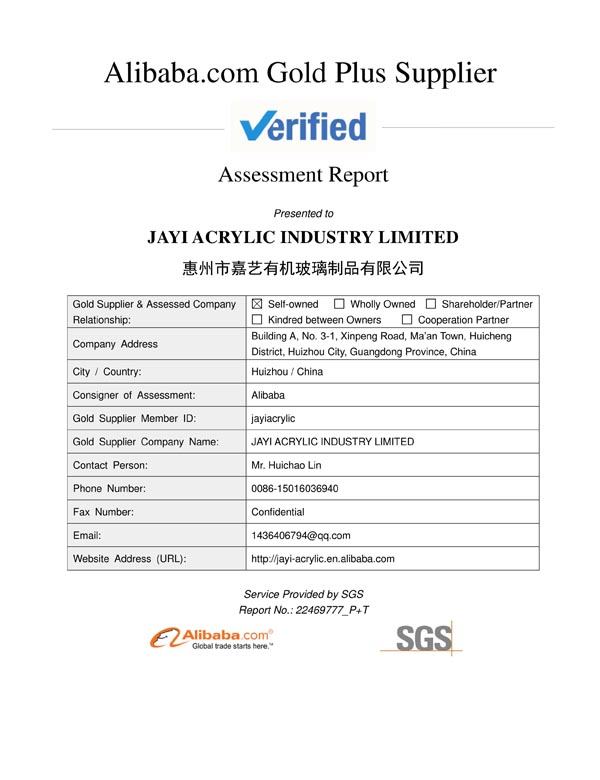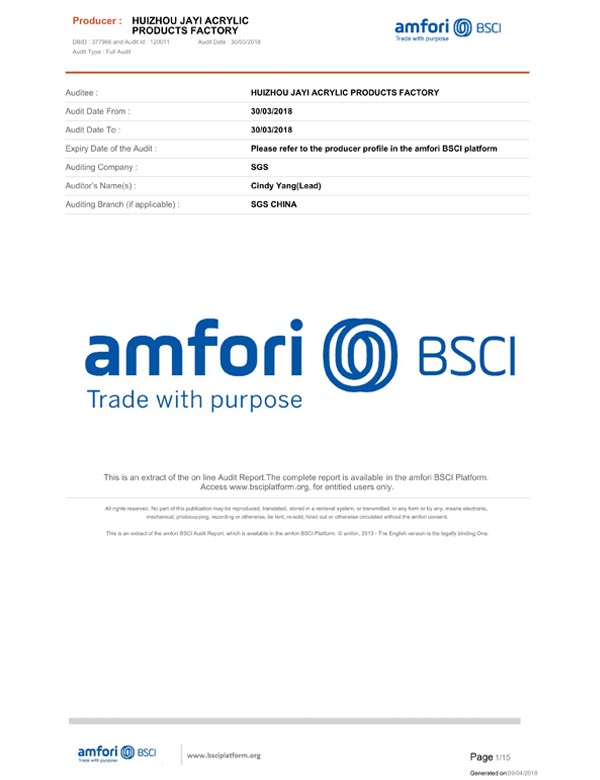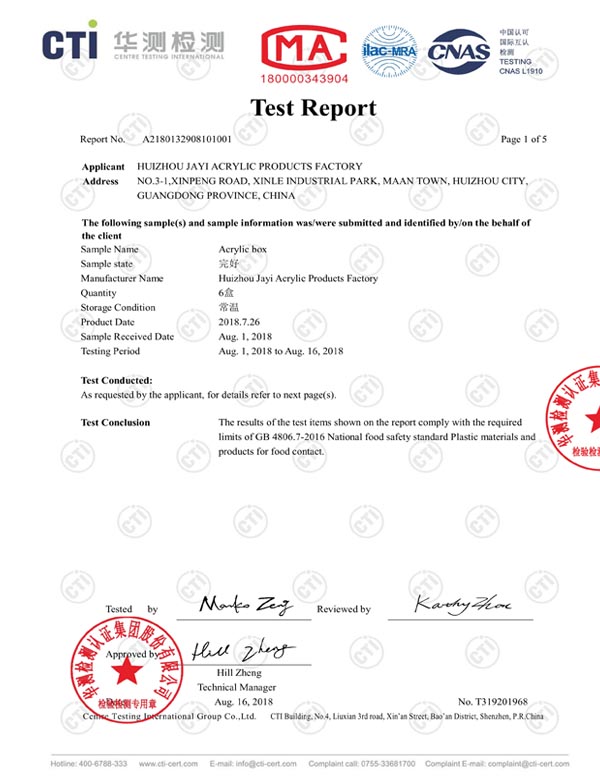 Partners From Acrylic Flower Display Box Supplier
  Jayi Acrylic is one of the most professional Plexiglass Products Suppliers & Acrylic Custom Solution Service Manufacturers in China. We are associated with many organizations and units due to our top-quality products and advanced management system. Jayi Acrylic was started with a single purpose: to make premium acrylic products accessible and affordable for brands at any stage of their business. Partner with the world-class acrylic products factory to inspire brand loyalty across all your fulfillment channels. We are being loved and supported by many world top companies.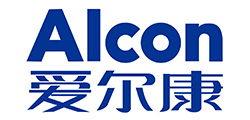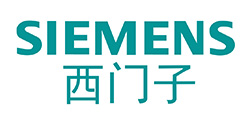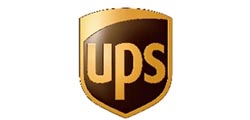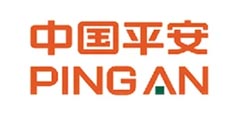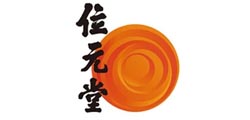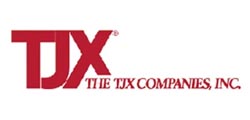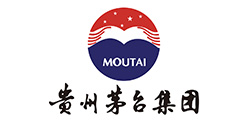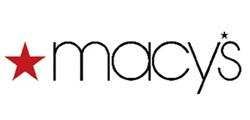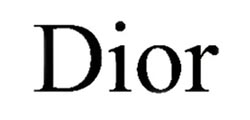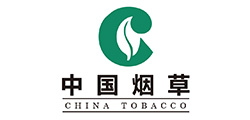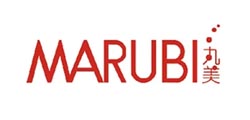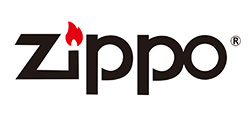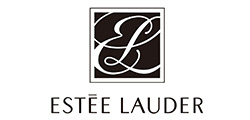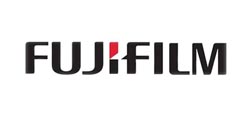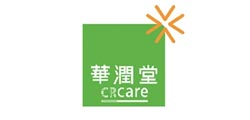 Acrylic Flower Boxs: The Ultimate Guide
1. How to clean an acrylic flower box?
You can use warm water and a neutral washing liquid method for cleaning, gently scrub the surface of the flower box and then rinse with water, and naturally air dry. Do not use strong acid and alkaline cleaning agents, and do not use hard cleaning tools.
2. How to deodorize acrylic flower box?
You can put a small plate of activated carbon in the acrylic flower box, replace the activated carbon once a week, and play a very good deodorization effect. You can also put a small bag of spices in the flower box, such as lavender, orchids, and other spices.
3. How to prevent the yellowing of acrylic flower boxes?
You can choose an anti - UV acrylic flower box, this material has stronger yellow resistance. You can also regularly use anti-UV acrylic protective film to protect the surface of the flower box, which plays a good role in preventing yellowing.
4. How to avoid scratching the acrylic flower box?
When using acrylic flower boxes, avoid contact with hard objects to prevent scratches. If inadvertently produced a slight scratch, you can use polishing paste polishing treatment, and then on a layer of protective film, which can largely improve the appearance.
5. How long is the service life of acrylic flower boxes?
The service life of acrylic flower boxes of different materials is different. The service life of ordinary acrylic flower boxes is usually 1-2 years, the service life of UV-resistant acrylic flower boxes up to 3-5 years, the longest service life of reinforced acrylic flower boxes, is up to 5-10 years. Service life is also related to the use of the environment, maintenance, etc.
6. Acrylic flower box can be placed in the sun?
Not recommended to be placed in direct sunlight for a long time. Can avoid strong ultraviolet radiation, which will accelerate the aging of acrylic materials and color changes. If you need to be placed in the sun, you can choose anti-UV acrylic flower boxes, and regularly use an anti-UV protective film for protection.
7. How to avoid the deformation of acrylic flower boxes?
Can not be placed in a high or low-temperature environment for a long time, which will lead to thermal deformation or cold deformation of acrylic material. Also avoid heavy pressure, which may lead to the deformation of the flower box. Try to keep the balance of the box when you use it, avoid tilting it. If a slight deformation can be reshaped by heating to repair the method.
8. How to avoid cracks in the acrylic flower box?
When using the box, you should take it lightly, and avoid strong impact or vibration to prevent cracks. If there are small cracks, you can use an acrylic repair solution to seal the repair, and then a layer of protective film can be effectively repaired. For larger cracks, it is recommended to replace the new acrylic flower box.
9. Acrylic flower boxes can be placed in what flowers?
Acrylic flower boxes are usually used to place fresh-cut flowers, such as roses, tulips, lilies, orchids, etc.. Can also be placed in dried flowers, such as sunflowers, chrysanthemums, etc.. Need to avoid placing those flowers that will ooze too much nectar, so as not to stick to the flower box.
10. How to store the acrylic flower box?
If not in use, you can store the acrylic flower box in a dry and cool place after sealing it with the original bag. Regular inspection, if the box is found to be damaged or deformed, needs to repair or replace as soon as possible. Do not store for a long time in a high-temperature, humid environment, which will accelerate the aging of materials and quality changes. Do not put heavy objects on the flower box, which may lead to deformation or damage.
Other Types of Acrylic Boxes
Other Types of Acrylic Products