Custom Tumble Tower Game Block Set
A Promotional Gift to Help You Bond with Your Employees and Clients
Everyone loves a fun, interesting, and creative game, right? The Acrylic tumbling tower game set is one such game. It not only helps you develop your cognitive skills but brings your innovation and creativity to the table. Custom Lucite tumble tower block game sets can make for a great promotional gift for your clients, employees, and stakeholders. Let us tell you how.
It is so important for every business, big or small, to invest in creative marketing strategies to keep up with the new world. Investing in a custom tumble tower game set will be one wise option. We can provide a custom tumble tower chess game set with your company or brand name or logo in bulk at wholesale prices. These custom tumble tower blocks featuring your brand logo or name will help you positively promote your business or brand. Our wholesale prices are affordable for new startups as well as multinational corporations.
You can introduce these custom tumble tower blocks at company workshops as team-building activities. Let your employees, clients, and stakeholders witness your creative marketing strategies. We provide completely customized high-quality tumble tower blocks to help you meet your marketing needs.
If you feel that your employees or your clients won't enjoy playing with these custom Lucite tumble tower game sets, you can gift them to their kids. Children love playing with custom tumble tower blocks. When your clients see that you care for their family and have given them a thoughtful gift, they are sure to remember your brand or company positively.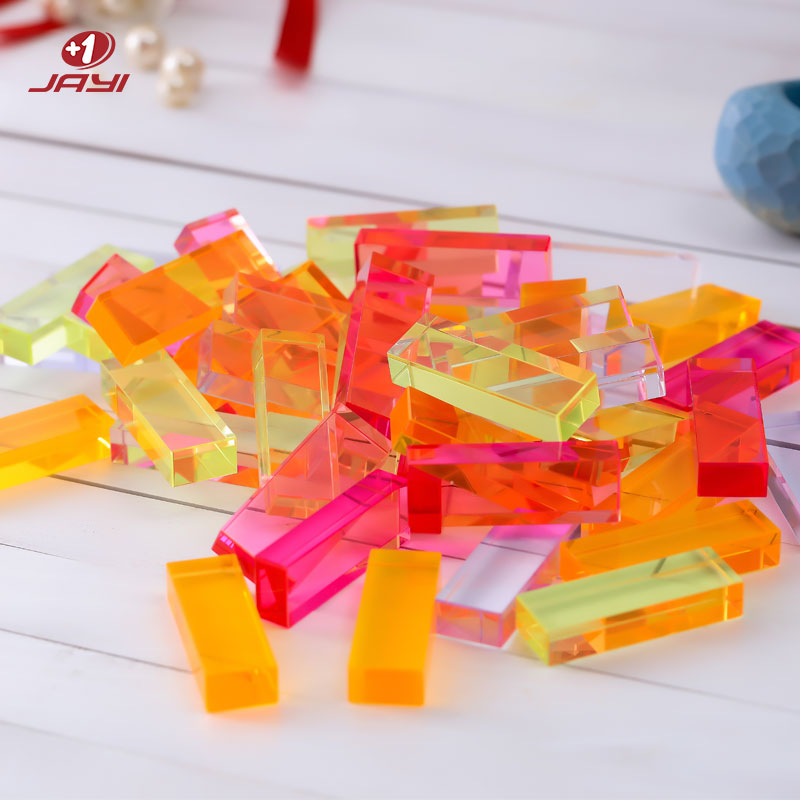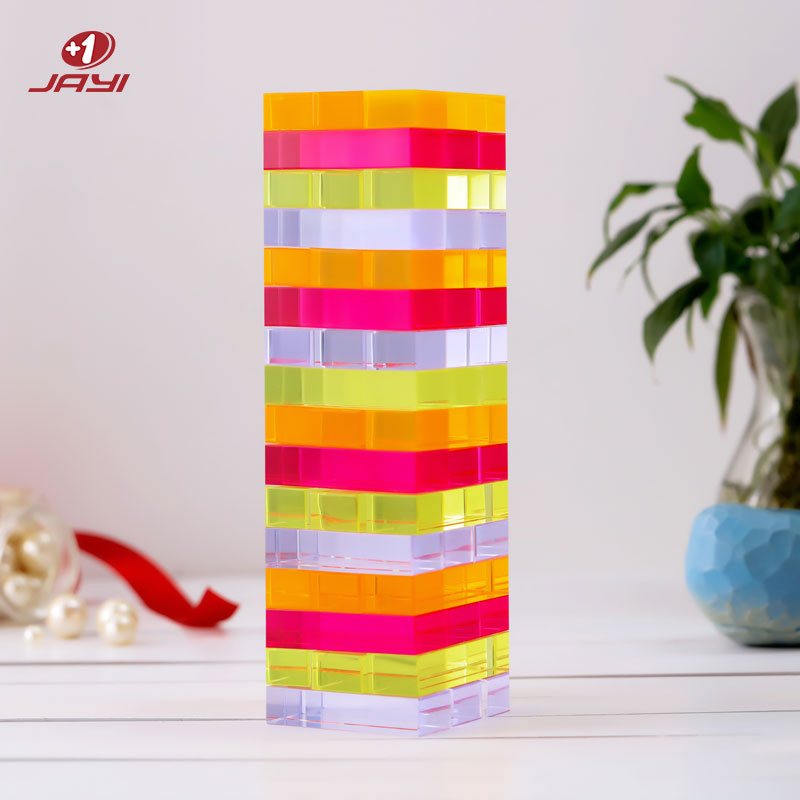 Tumble tower is a board game of physical and mental skills. Built on the simple premise of stacking blocks, tumble tower engages players of all ages, across all cultures. tumble tower's success rests on its solid play value. Players take turns to remove a block from a tower and balance it on top, creating a taller and increasingly unstable structure as the game progresses.
Visual Sensing Capability:
Various and bright colors motivate babies` visual sensibility. Through the building game, kids can develop their distinguishing capabilities of different colors.
Attention:
The tumble tower building block puzzle itself requires high concentration. Otherwise, the blocks will collapse easily. It is a very good way to practice babies` attentions.
Balance Capability:
After finishing building, kids can also pull out blocks and build again. It requires that kids should control their distance and positions. It both cultivates the coordination capabilities between eyes and hands, and kids` patience and carefulness.
Imagination And Creativity:
Children can use clear and colored tumble tower Blocks to build a variety of interesting shapes, such as rabbits and stools. Let your children give full play to their imagination and creativity!
Description: Just like the original tabletop tower game, but bigger and decorated with your designs. Designed for outdoor and indoor use, the tumble tower can be customized in size, height, and the number of blocks. The blocks are made of high-quality acrylic and come in a durable acrylic box for easy storage and transportation. 
♦ LUXURY - Hand-made of 3D CrystaLuxe acrylic that is laser cut. A luxurious design for any home or office.
♦ COMPLETE SET - Includes 48 custom laser game pieces in a chunky acrylic that are each individually polished to look like glass. Also includes matching clear acrylic storage box.
♦ QUALITY - Built with the highest grade of acrylic that will not yellow over time. Each piece is solid acrylic.
♦ PERFECT GIFT - Luxurious gift for the avid gamer or for anyone who loves the stacking tumble tower game.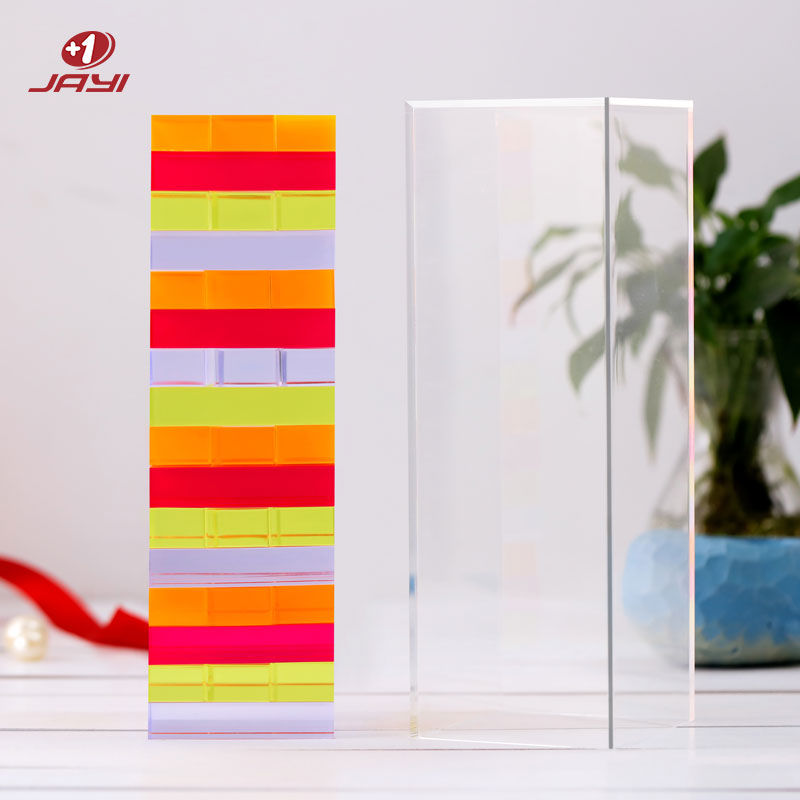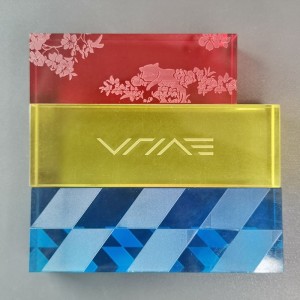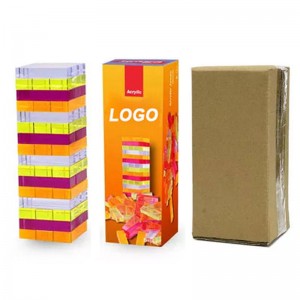 Each block can be customized with different patterns and shapes, individually engraved on one side using a precision laser to ensure your tumble tower block stands out.
Two kinds of packaging methods are supported: the first one is a colorful packaging with patterns and text, which is very attractive. The second is safe packaging, which can save your cost.
Custom Logo Printed Acrylic Tumble Tower Blocks
Our custom tumble tower blocks can help children unleash their hidden potential and talents. It is a game that helps children forge new friendships and spend time in a fruitful manner. In the world of internet gaming and social media, letting children experience a creative and fun game like tumble tower will prove beneficial.
So why wait?
Contact JAYI Acrylic today to discuss your marketing needs and strategies with us. We have a wide range of custom tumble tower game sets for you to select the one you prefer. We also provide you with the option to get completely customized promotional gifts and products as per your need. Our expert designers and creators will be happy to listen to your ideas and create custom tumble tower game sets s per your need. We promise high-quality production and delivery services. We can create bulk products for your company or brand, and that too at an affordable wholesale price.
You matter to us! We can help you take your brand or company to the next level with our high-quality printing services. So do not hesitate to give us a call or drop us a message. Our dedicated customer service representatives will respond to your queries in no time. Make a positive and long-lasting impression in the minds of your clients and stakeholders with our high-quality promotional gifts and custom products today! Your company will get positive publicity with the help of our amazing custom acrylic game sets!
How to Customized Your Personalized Tumble Tower Block Game?
Please send logo design file in vector format (PDF, AI both ok)
Design drawing will be provided to you
As professional Domino supplier for over 19 years, we use excellent acrylic raw materials for our products. This material is safe, environmentally friendly and non-toxic
100% quality inspection before shipment. Keep the mass production quality same as pre-production sample.
We are committed to competitive prices, high quality and prompt delivery. Our delivery accuracy rate has been maintaining above 98 percent For the past 19 years. Contact us now and we promise a reply within 24 hours.
Small orders welcome and hope to build long term business relationship
Welcome custom design/idea.Customized design, customized logo, OEM orders are all available and welcomed.
We have a strong R&D team that can give you a professional customized solution.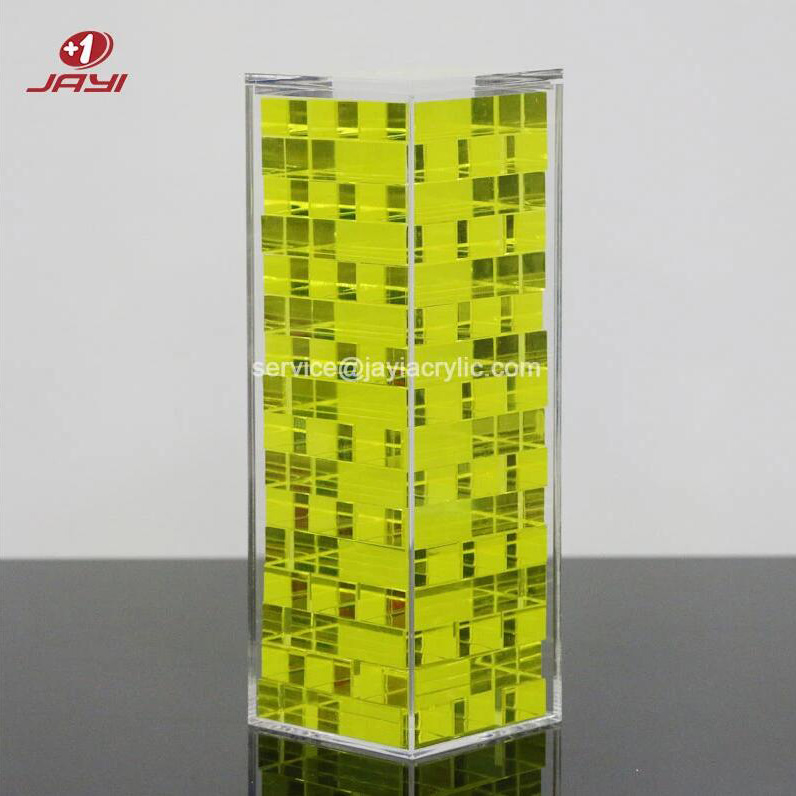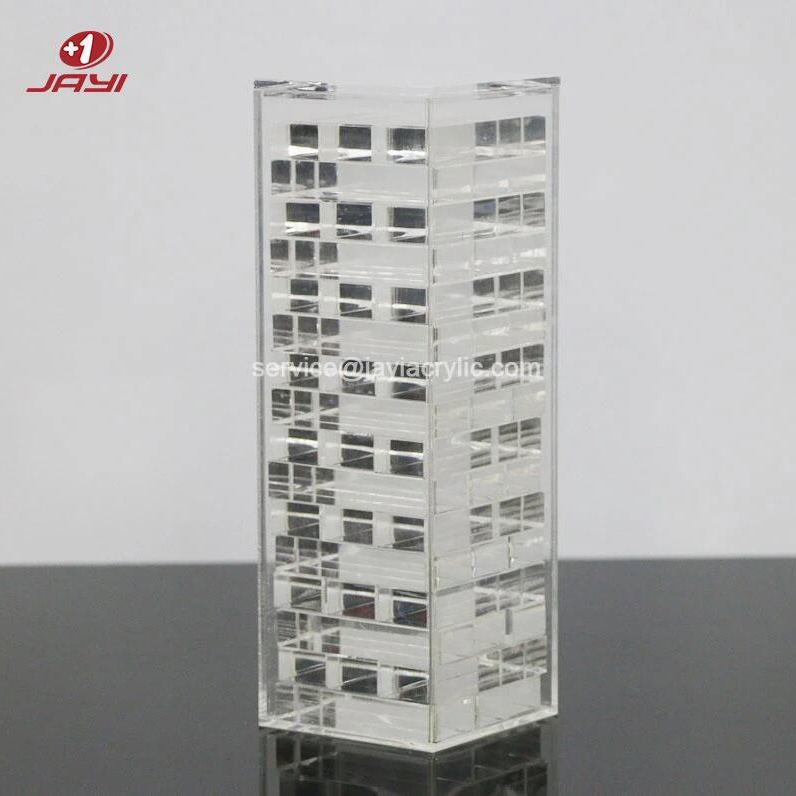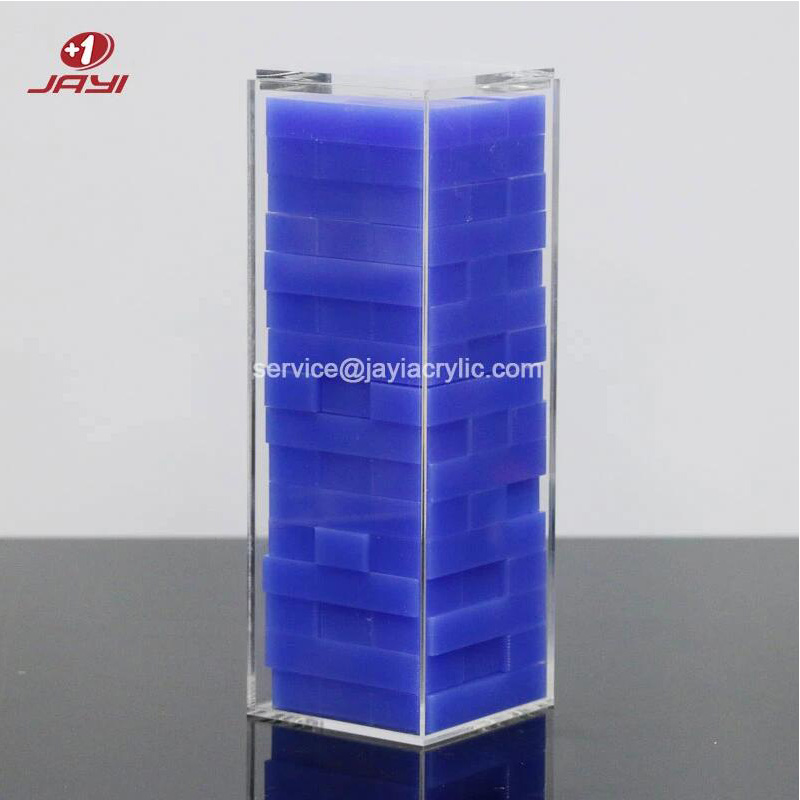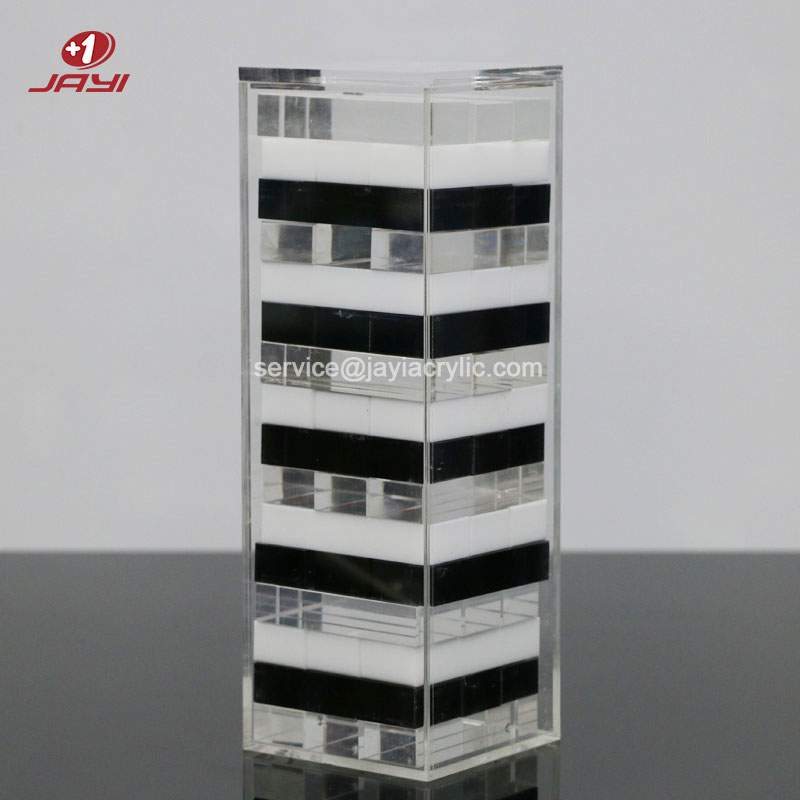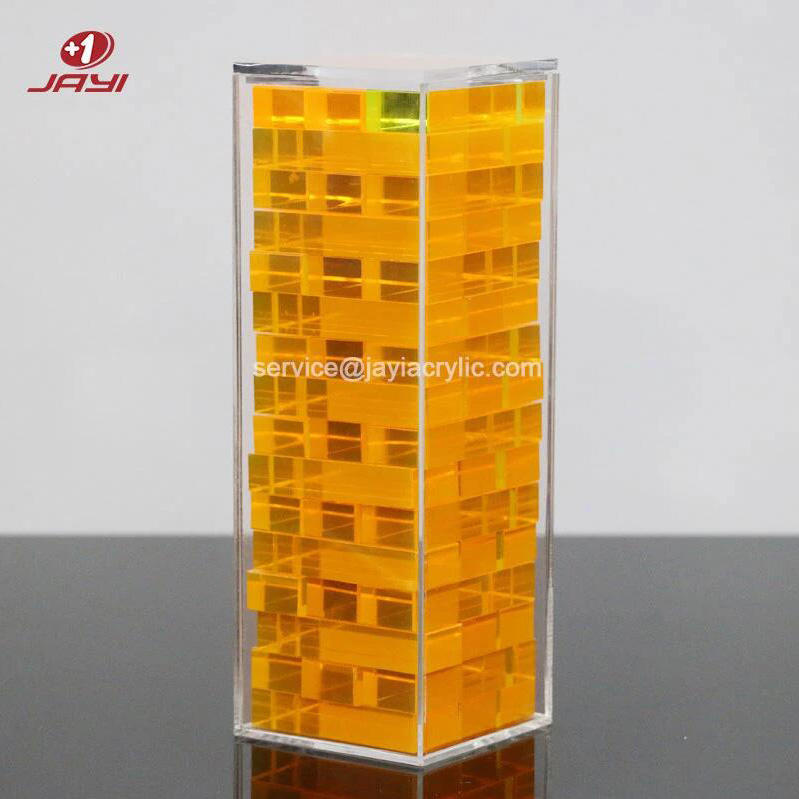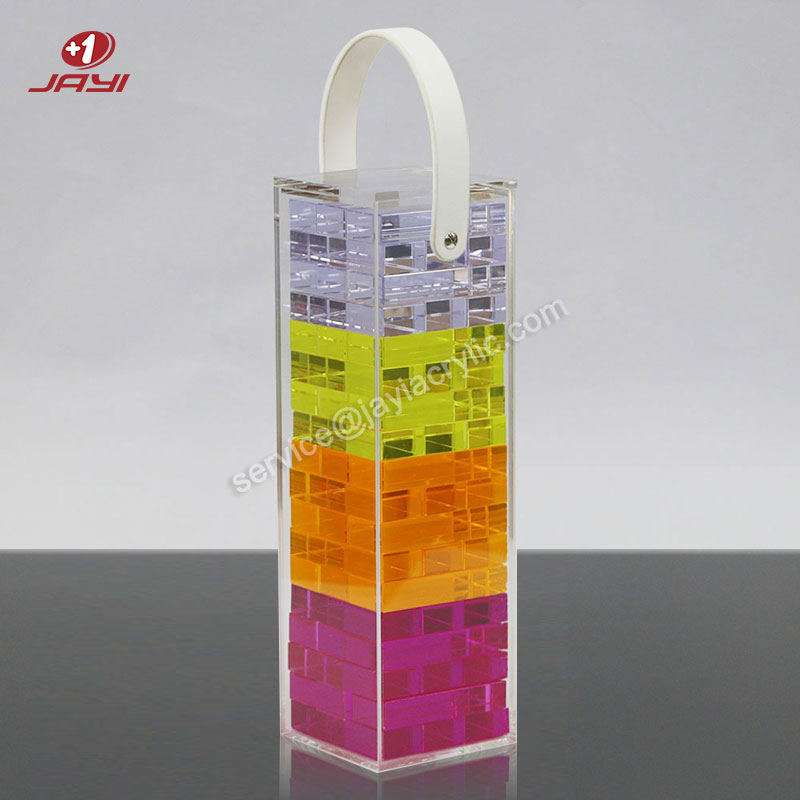 Build the bricks into a balanced tower
Take turns to remove a brick and placing it on top
Try to strategize and make your opponent falter!
Teach kids the fundamentals of physics!
Tumble Tower Block Game - Stacking blocks, is a classic board game, the number of blocks is usually 30, 48, 54, 72 pieces, suitable for 6 years old and above, 2-4 players.
To play this fun interactive game, stack acrylic blocks into towers and take turns pulling the blocks without tipping the tower.
A classic educational tumbling tower set accompanied by entertaining and interactive board games for the whole family, it's a stacking lesson that keeps learning and laughter high.