Acrylic Game Series Video
China Professional Acrylic Board Games Supplier & Manufacturer
Jayi Acrylic Industry Limite is a local acrylic product manufacturer in China. We tend to provide you with one-stop acrylic game customized solutions. We have over 20 years of experience in customizable board games.
As the most trusted acrylic game manufacturer in China, we focus on contributing a huge range of acrylic games. The Jayi offers an outstanding acrylic game package such as custom acrylic games and more. Exclusive gifts can also be given according to the needs of the occasion.
Jayi offers different kinds of lucite games depending on your business needs.
Please write us an inquiry now and we will reply as soon as possible.
Custom Acrylic Board Game to Skyrocket Your Brand
From game nights at home to entertainment on road trips, lucite board games are a fun and easy option to have on hand. Our collection of personalized board games consists of a number of high-quality acrylic games, including several classics. Here is a quick look at the different games you have to choose from.
Ramp up the excitement at any gathering with a custom colorful board game of oversized acrylic tumbling blocks that anyone can play.
This sleek chess set catches the light in beautiful ways to create a stunning game that is perfect for display. The perfect gift for game nights with family and friends.
 A modern take on a traditional favorite, our backgammon sets are available in a clear and gold design or a colorful design to go with your style.
Luxury Acrylic Connect Four Game is the ultimate in modern game sets. Get your game on with this family fun lucite 4-in-a-row game.
A great game for the whole family, our acrylic Tic Tac Toe sets are available in both translucent and bright neon designs.
Give the gift of gaming fun with this eye-catching domino set. We've revamped this family favorite with a sleek acrylic design to make a colorful statement in any room. 
This puzzle is made of acrylic for a more premium and durable feel. Our puzzles are usually displayed in two ways, one is desktop decoration and the other is a wall hanging.
Beautifully unique, this modern chess set is a gift that is made to surprise and delight. The set includes a clear acrylic game board with chess and checker pieces.
The Luxury Poker Chip Set in white comes with 100 poker chips. All chips are casino grade and have a good weight to them.
Another classic board game, our acrylic cribbage sets are made of modern sleek acrylic with a smaller size and a lightweight design that makes them easy to travel with.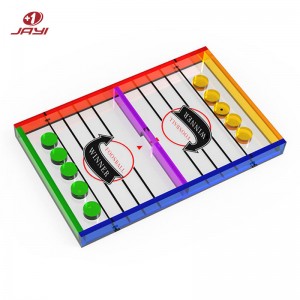 Hockey Winner Game
We present to your attention The Fjord Capture - themed slingback/slingshot Acrylic foldable and portable board game.Be the true Jarl - set Your own rules!

Beautiful for display. We've given your favorite game a colorful upgrade in sleek acrylic that looks so good you won't want to put it away after you're done playing.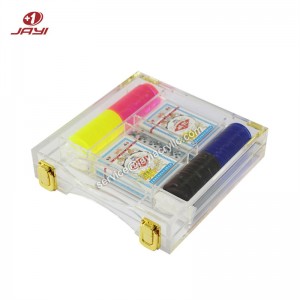 Customized Poker Card & Dice Sets
Beautiful to look at and even more fun to play, we've refreshed all of your favorite board games with colorful acrylic so you can up the ante on game night.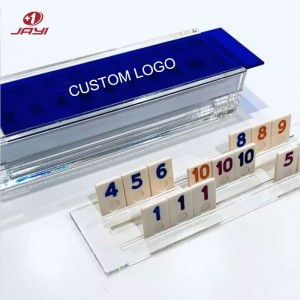 Rummy Tile Game Set
Everyone enjoys playing Rummy on this handmade, acrylic set and it is a great way to spend time with friends and family. Our rummy set makes an amazing gift.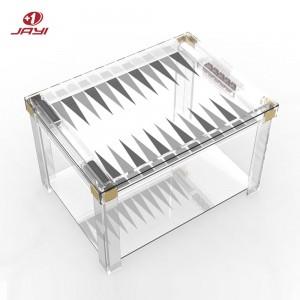 Backgammon Lucite Game Table
 This transparent thick luxury custom lucite backgammon acrylic game table sits quietly in your game room or family room without taking up too much visual space. 
Don't You Find What You Are Looking For?
Just tell us your detailed requirements. The best offer will be provided.
What Types Of Acrylic Board Games Can We Customize?
1. Cooperative Board Games
Cooperative board games are innovative and creative, but they also require teamwork if you want to accomplish all your goals. These co-op board games are engaging, fun and full of brilliant ideas.
If you want to create your own custom cooperative board game, give it a try today. We're here to bring a unique perspective to the board game world, while also pushing the envelope in terms of style and collaboration.
2. Educational Board Games
There is always something new to learn in these games. You can play educational board games with different themes, from biology to chemistry, economics, math, and more.
We can help you create custom educational board games as you see fit. We can easily include chessboards, dice, cards, hourglass timers, and various elements.
3. Family Board Games
Family board games allow the whole family to collaborate and work together. For more competitive people, these can be simple collaborative experiences.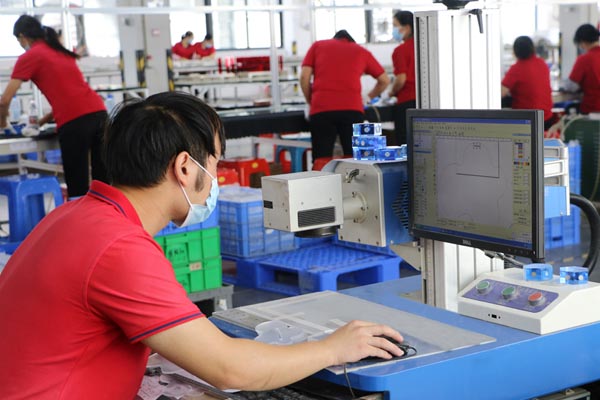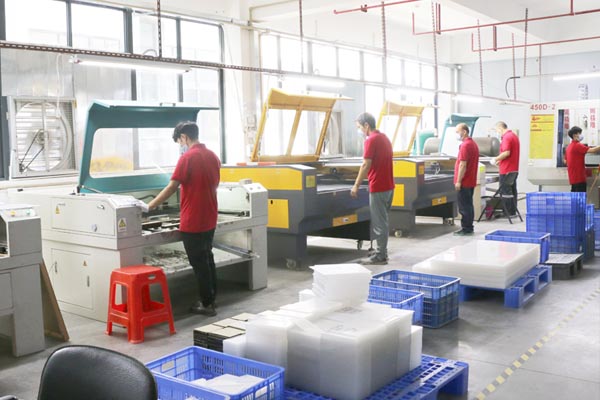 If you want to create your own custom family board game, we're here to help you. We can bring about broad-based growth and innovation while constantly pushing boundaries and setting new ideas.
What We Can Customize For Your Acrylic Board Game?
1. Design Validation
Once we receive your customize board games idea or document, we will discuss providing you with the most cost-effective solution.
2. Prototype
We will prototype your acrylic lucite board game and send it to you for sample inspection.
3. Mass Production
If your sample board game has been approved, we will arrange mass production.
Have a Special Requirement?
Generally, we have common acrylic products and raw materials in stock. For your special demand, we offer you our customization service. We accept OEM/ODM. For an accurate quotation, you need to tell us the following information:
Certificates From Acrylic Products Manufacturer And Factory
We are the best wholesale custom acrylic game products supplier in China, we provide quality assurance for our products. We test the quality of our products before final delivery to our customers, which also helps us maintain our customer base. All of our acrylic products can be tested according to customer requirements (eg: ROHS environmental protection index; food grade testing; California 65 testing, etc.). Meanwhile: We have ISO9001, SGS, TUV, BSCI, SEDEX, CTI, OMGA, and UL certifications for our acrylic storage box distributors and acrylic display stand suppliers around the world.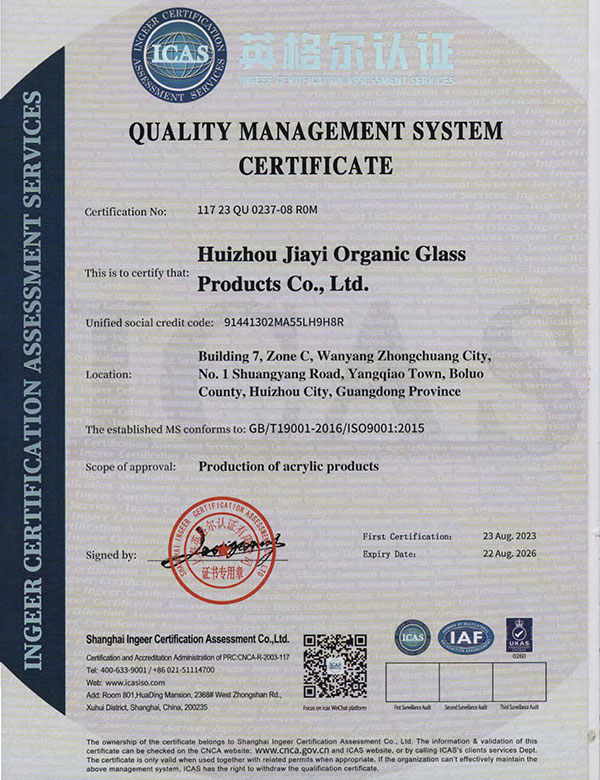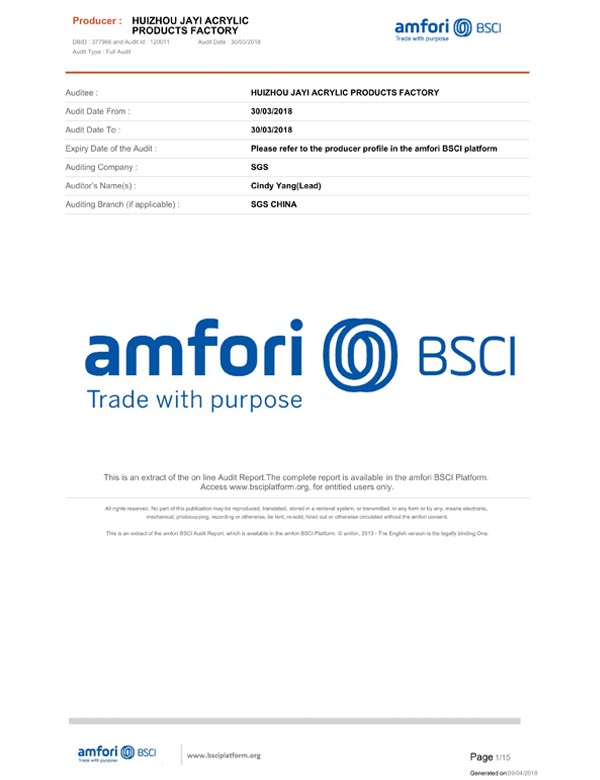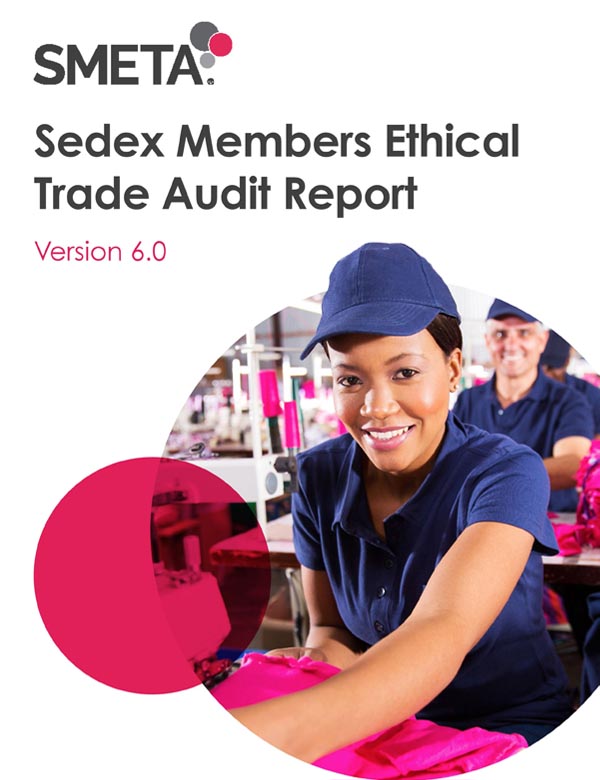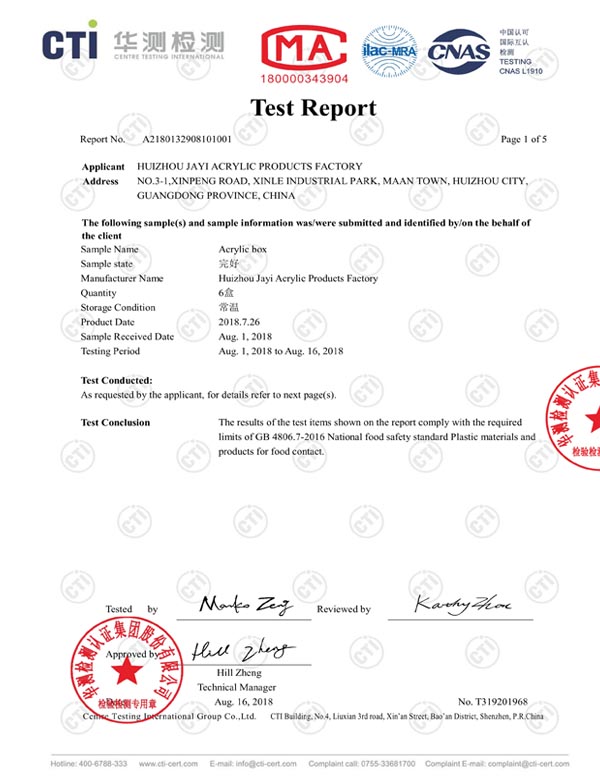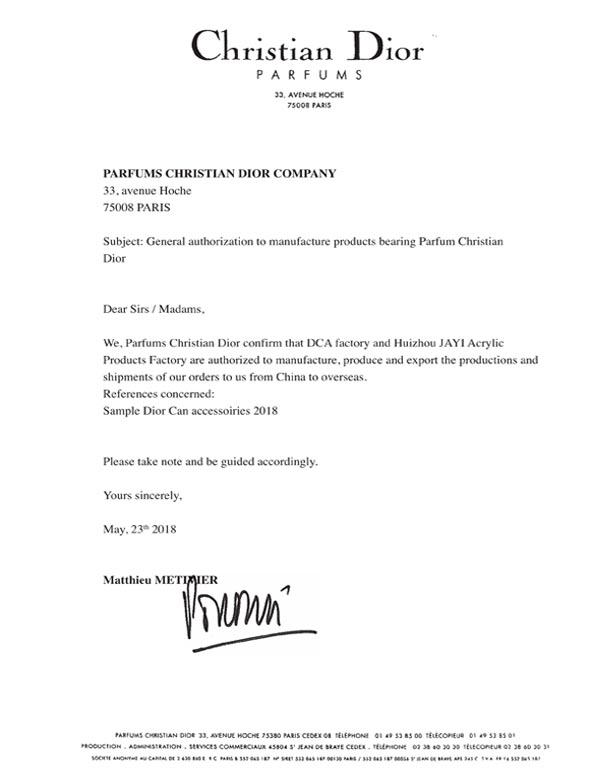 Frequently Asked Questions About Custom Acrylic Games
Yes, With a factory of 6000 square meters, we have been specialized in the production of acrylic board games for 19 years since 2004. We have rich experience in custom production.
Yes, this acrylic board game set could be made according to your needs. ODM & OEM offered.
Sample and shipping cost would be charged. But sample cost is refundable while you place the mass production order.
Yes, offered. Feel free to offer us your requirements and printing designs.
Yes, QA & QC would do this job and make sure offer you the top grade acrylic board game set.
Step 1: Send us an inquiry via our website or send us an email directly to service@jayiacrylic.com
Tell us which models and quantity you would order.
Step 2: You would get a quotation from us within 24 hours.
Step 3: After all details and final prices confirmed, you would get a deposit payment invoice from us.
Step 4: You arrange the deposit payment at your side and offer us the payment slip.
Step 5: The production will be arranged after the deposit payment got into our bank account. During the production, we'll take photos and report the process to you until the goods are finished.
Step 6: You would get a balance payment invoice from us and transfer us the payment.
Step 7: We'll book the shipment schedule with the shipping agent after getting the balance payment.
Step 8: You'll get the goods in 5-7 days( if by air) or in 20-35 days( if by sea, it depends on the destination port.)
Step9: You would get our follow-up emails and after sales service after you get the Acrylic board game set folding board.
Other Types of Acrylic Products