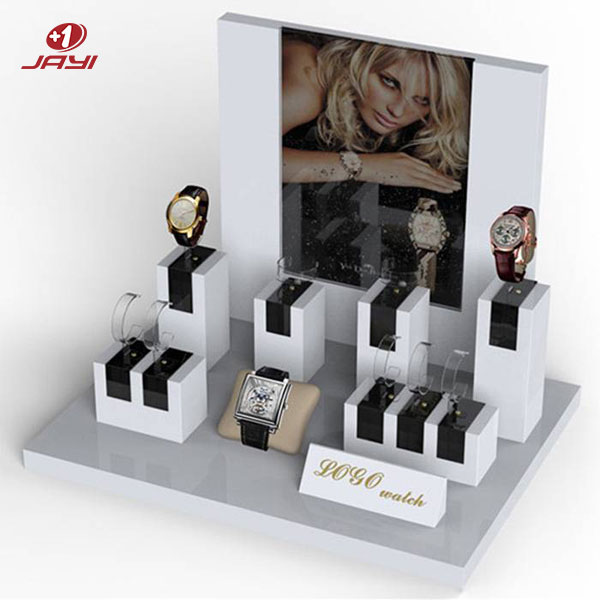 Custom Watch Display Stand
The design of acrylic watch display stands usually includes one or more horizontal or vertical stands that can house multiple watches. The support can be rotated or fixed as needed to facilitate the viewing of objects on display from different angles. Acrylic watch display stands are usually used in jewelry stores, exhibitions, shopping malls, and display windows to attract customers' attention and show the high-end quality and beauty of products.
Custom Your Common Acrylic Watch Display
Jayi Acrylic is a leading supplier of custom acrylic watch display stands for retail stores and businesses. We have many ways to customize your POP watch display, from logo branding and interactivity to product literature and location. In addition, you can choose from a wide variety of material types (including wood and acrylic), colors, shapes, and sizes. Whatever you need, you can rely on Jayi Acrylic for exceptional results.
Jayi Acrylic provides exclusive designers for all of your acrylic watch displays. As a leading manufacturer of custom acrylic products in China, we are pleased to help you provide a high-quality acrylic watch display stand suitable for your business.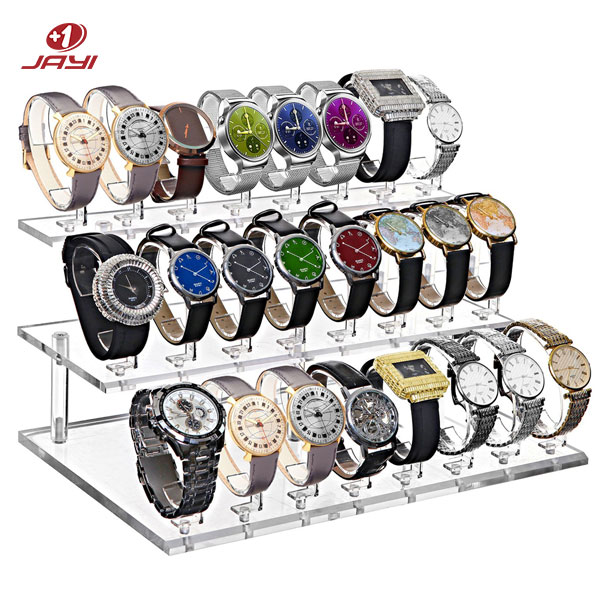 Step Acrylic Watch Display Stand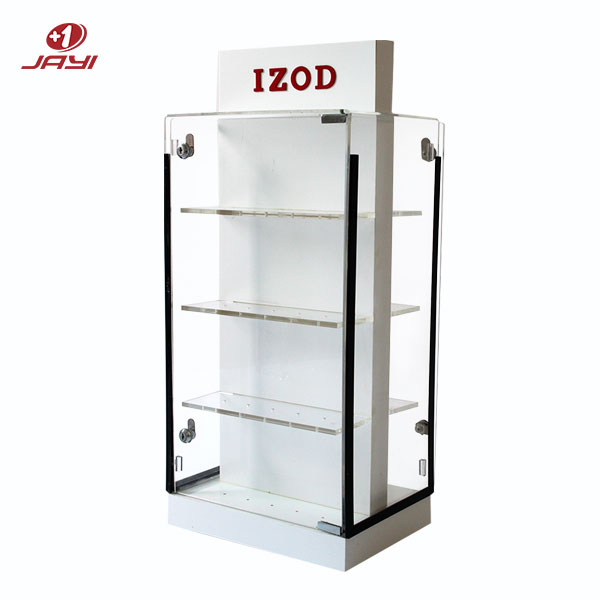 Acrylic Watch Display Case with Lock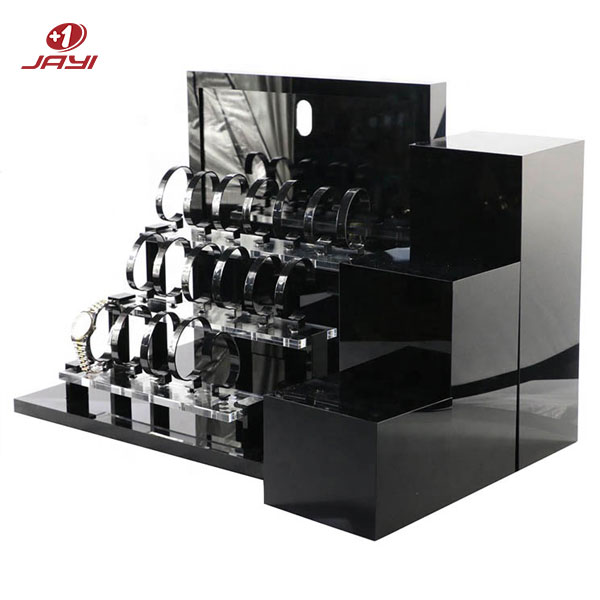 China Acrylic Watch Display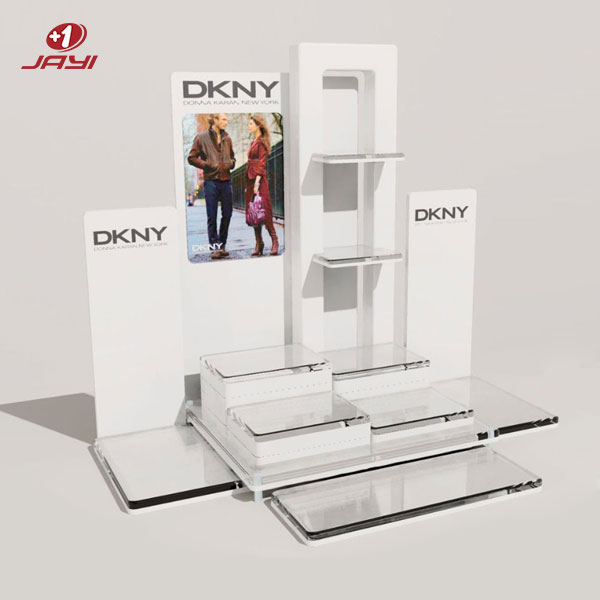 Acrylic Watch Display Manufacturers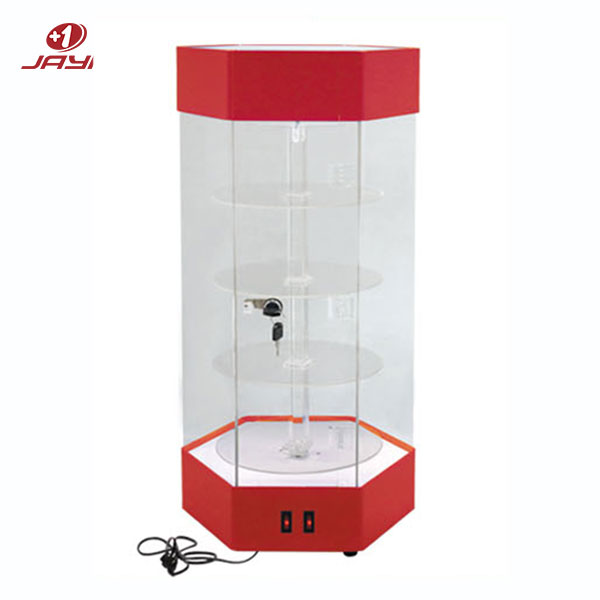 Rotating Acrylic Watch Display Case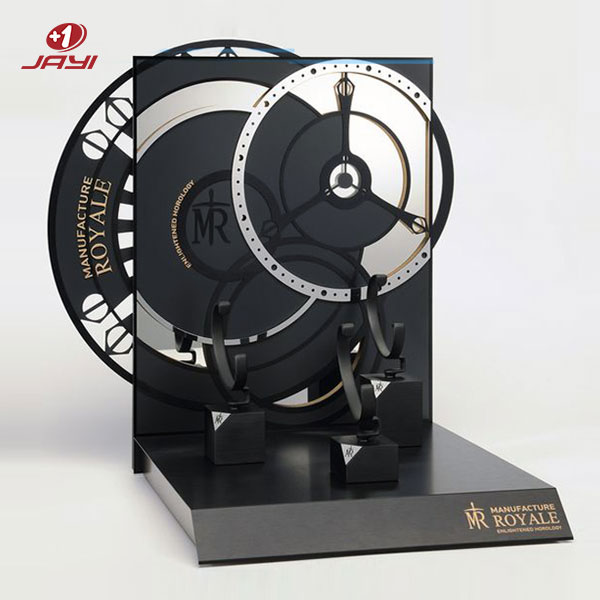 Acrylic Watch Display Stand Suppliers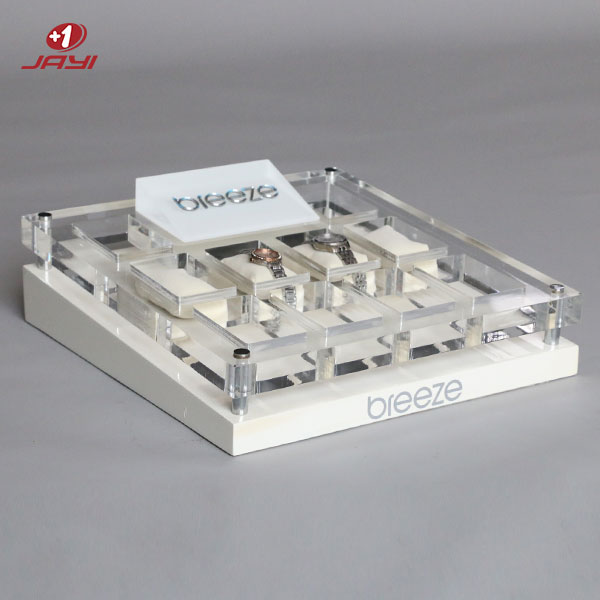 Acrylic Watch Display Supplier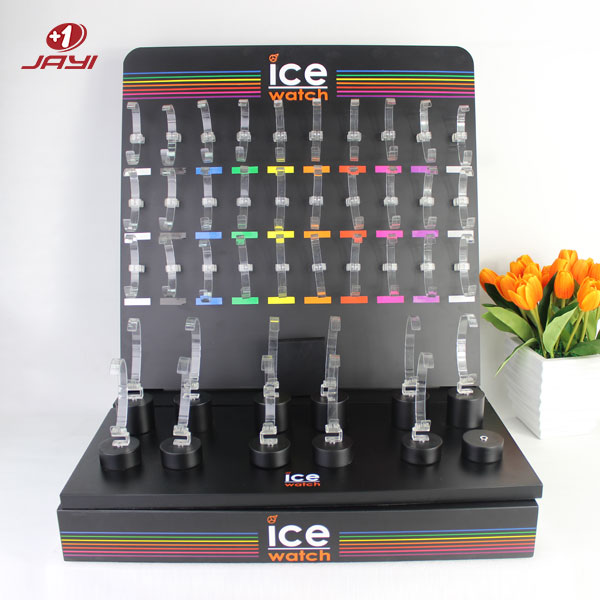 China Acrylic Watch Display Supplier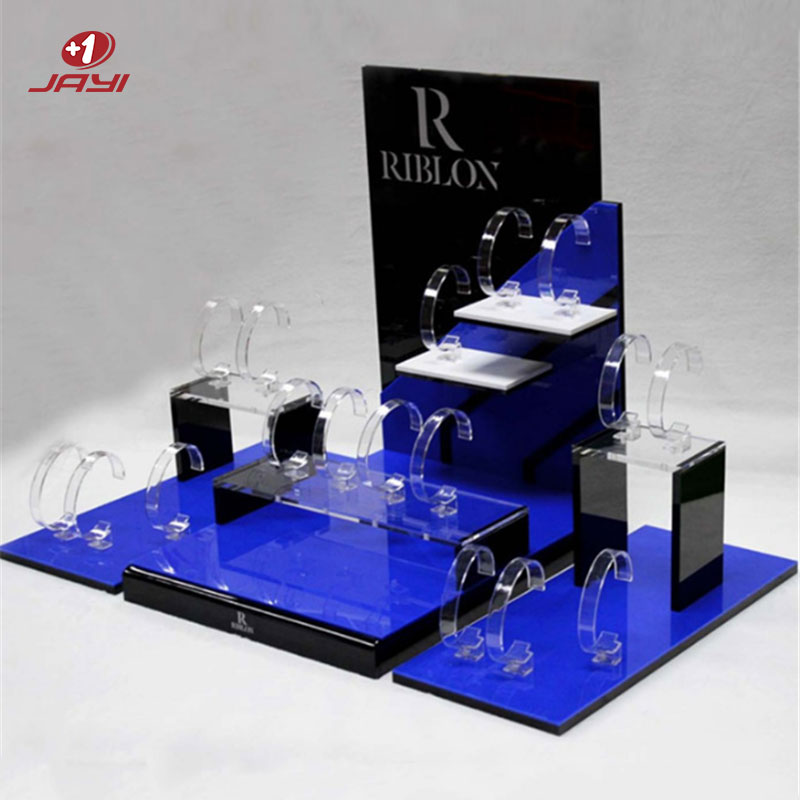 Acrylic Watch Display Stand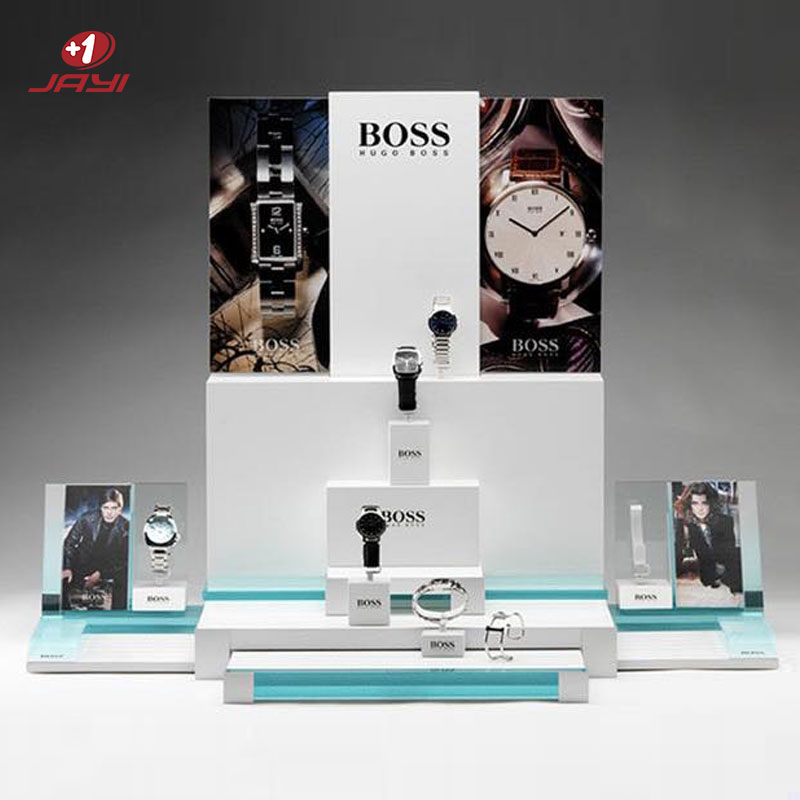 Customized Acrylic Watch Display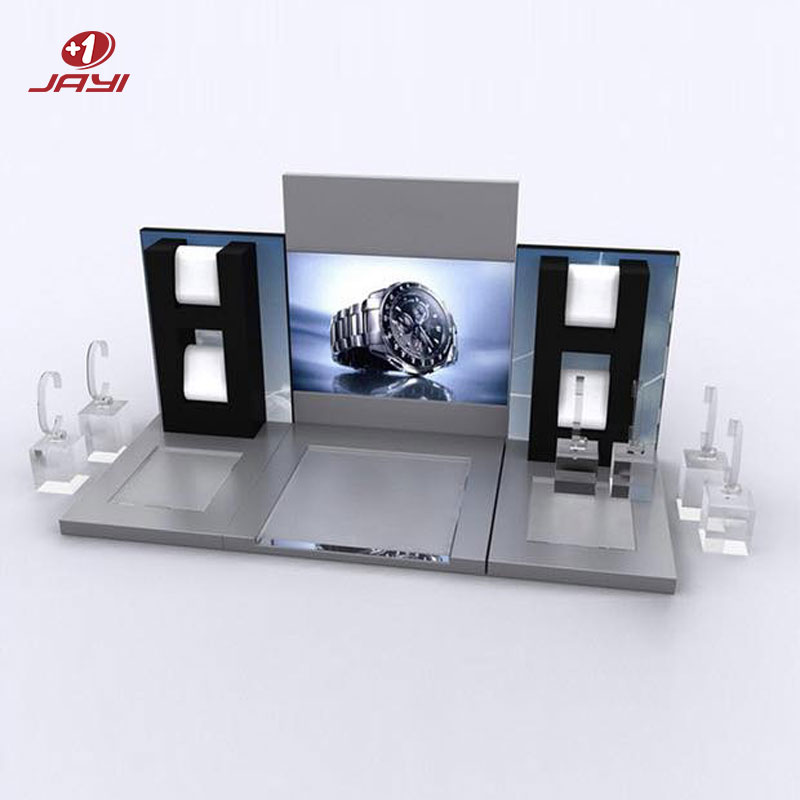 Acrylic Watch Display Rack
What Can Our Custom Acrylic Watch Display Bring You?
When you're selling watches, custom acrylic displays can increase brand awareness. Since watches are easy items to pick out, displaying them correctly with an acrylic display can increase sales. They allow you to help your shoppers find what they're looking for and still prompt them to buy. Jayi Acrylic watch displays can help your brand stand out in a retail environment, capture the attention of visitors and convert them into buyers.
Acrylic is a strong and durable material that can withstand scratches and impacts, ensuring your watch display will last longer.
Acrylic is a versatile material that can be molded into a variety of shapes and sizes, allowing you to design a watch display that meets your specific needs and preferences.
Clear acrylic material keeps your watch clearly visible, helping to grab their attention and drive more sales.
Acrylic is easy to clean and maintain, which ensures your watch display always looks new and attractive. Overall, custom acrylic watch display stands help elevate the look of your watches while enhancing your brand and driving more sales.
You can customize watch displays with your company logo and artwork to enhance brand recognition and increase brand awareness.
You can use our custom acrylic watch displays in:
   • Display your watch collection in your personal home or office
   • Display of watches in retail places such as watch shops, jewelry shops, and opticians
   • Gift companies or event planning companies use acrylic watch display holders as custom gifts or prizes
   • Use acrylic watch display stands to display products in online stores or social media marketing
   • Large shopping centers such as shopping malls, supermarkets, and exhibitions display watches or other small goods
Browse through Our Trophy Custom Acrylic Watch Displays
Custom acrylic watch displays are a must if you want your watch products to have maximum impact in stores and other prominent retail environments. You're competing with other watch sellers, and you need your display to stand out from the crowd, grab potential customers' attention, and shift them from browsing to paying. In order to achieve this goal, you need the experienced and talented team of Jayi Acrylic.
It was clear from the start that working with Jayi Acrylic was different from working with other companies. First, we equip each client with their own project manager, working with them from design to completion. In addition, we will complete the entire project in-house. This means that, unlike many of our competitors, every step of the acrylic watch display manufacturing is done by our factory itself, rather than subcontracting part of the work to another company. This allows us to offer the lowest prices and the fastest turnaround time in the industry.
How to Custom Acrylic Watch Display Stand?
Just 4 Easy Steps to Start Your Project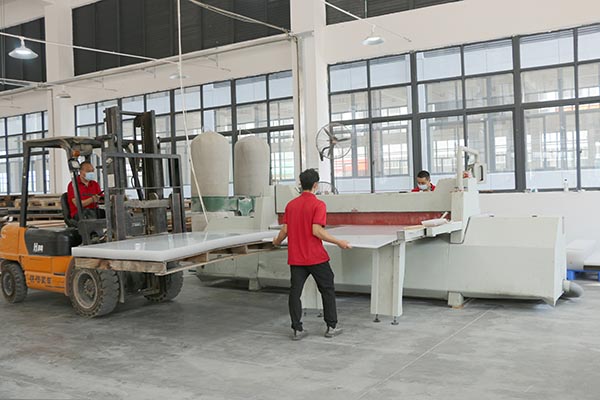 You can send us the drawings, and reference pictures or share your ideas of the acrylic watch display stand you want. And you'd better tell us clearly the quantity and delivery time you need.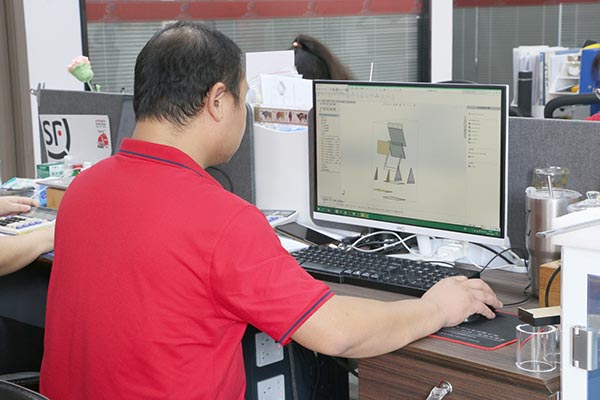 2. Organize Quotation & Solution
We will arrange a detailed product quotation and solution for you within 1 day according to your specific requirements.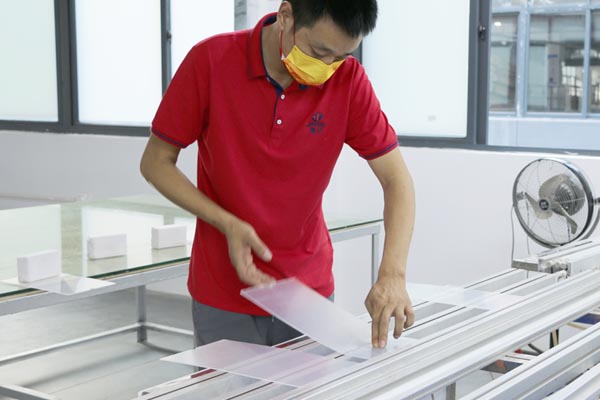 3. Sample Acquisition & Adjustment
If you are satisfied with our quotation, we will prepare product samples for you in 3-7 days. You can confirm this with physical samples or pictures and videos.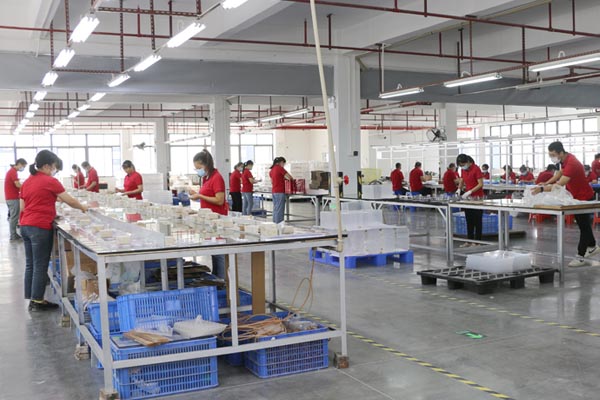 4. Approve Mass Production & Transportation
After you confirm the sample, we will start mass production after receiving the deposit. Production time is 15-35 days
  Still confused by the custom acrylic watch display stand ordering process? Please contact us immediately.
Don't You Find What You Are Looking For?
Just tell us your detailed requirements. The best offer will be provided.
Professional Custom Acrylic Products Manufacturer
 Jayi Acrylic was founded in 2004, as a leading manufacturer of customized acrylic products in China, we have always been committed to acrylic products with unique design, advanced technology, and perfect processing.
We have a factory of 6000 square meters, with 100 skilled technicians, 80 sets of advanced production equipment, all the processes are completed by our factory. We have a professional design engineering research and development department, and a proofing department, that can design free of charge, with fast samples, to meet the needs of customers. We have a variety of exquisite modeling of acrylic boxes, acrylic display stands, acrylic games, acrylic home storage, acrylic office storage, and acrylic pet products for your choice.
From designing to manufacturing and finishing, we combine expertise and advanced equipment to deliver high-quality products. Every custom acrylic product from Jayi Acrylic stands out in appearance, durability, and cost. 
Custom Acrylic Watch Display Stands: The Ultimate Guide
How do you make your watch more attractive to customers when they find it? You'll need a special display stand to display your watch! We can provide you with such products that can showcase your brand culture. Jayi Displays designs and manufactures POS acrylic watch display stands that are visually appealing, helping to increase product brand awareness and retail sales.
What Is An Acrylic Watch Display Stand?
An acrylic watch display rack is a kind of watch display rack made of acrylic material, usually used in shops, exhibitions, markets, and other places to display watches. Acrylic is a transparent, strong, durable, lightweight material that provides a beautiful appearance and is easy to clean and maintain. As a result, many watch brands and retailers choose to use acrylic watch display stands to display their products. The display stands can come in different shapes, sizes and designs, and can be customized to suit different needs.
Will The Acrylic Watch Display Rack Damage My Products?
Acrylic watch display stands are usually a transparent plastic material, which is usually lighter than glass and has higher impact resistance. Relative to other materials, acrylic is not as prone to breakage and damage as glass.
However, even acrylics may cause scrapes or scratches in some cases. If your watch has sharp or sharp edges or surfaces, placing it on an acrylic display stand may result in scratches or damage.
Therefore, when using an acrylic watch display rack, it is recommended to ensure that the watch surface does not have any sharp parts, you can use a soft cloth or cleaning cloth to wipe the surface clean, and gently placed on the display rack to avoid any damage.
What's The Best Color To Display The Watch In?
Display stands displaying watches should preferably be transparent, black, gray, or white so that the product does not have a color difference due to light reflection. Our acrylic watch display racks can be customized in a variety of colors to suit your needs.
Can An Acrylic Watch Display Stand Be Used At Home?
Yes, the acrylic watch display stand is very suitable for use at home. Acrylic material has high transparency, tough and durable, easy to clean, and other characteristics, suitable for making a variety of display racks, including a watch display stand. You can choose different sizes, shapes, and colors of acrylic watch display stand according to your needs and preferences, and display your favorite watches at home, which is both beautiful and practical. In addition, the acrylic watch display stand price is also relatively affordable, if you need to customize a personalized acrylic watch display stand, please consult us
How To Deal With The Yellowing Of The Acrylic Watch Display?
If your acrylic watch display stands turns yellow, you can try the following methods:
Clean with detergent: Use some mild detergent (such as soapy water or dishwashing liquid) and a soft towel to gently wipe the surface of the acrylic display stand. Rinse well with water and dry with a soft cloth.
Use bleach: You can use some bleach (remember to dilute) to gently wipe the surface of the acrylic and rinse it off with water.
Use UV light: Place acrylic display stands under UV light. This removes yellow dirt and restores their transparency.
Use abrasive: Gently wipe the surface of the acrylic with an appropriate abrasive and a soft cloth until all dirt and yellow substance are removed. Rinse with water and dry with a soft cloth.
It is important to avoid using strongly worn surfaces such as hard brushes or abrasive paper, and avoid cleaning with organic solvents such as alcohol or acetone, as these may cause damage to the acrylic surface.
How Will You Pack The Acrylic Watch Display Stand?
In order to wrap the acrylic watch display, it is recommended to follow these steps:
1. Prepare packing materials: Foam or bubble wrap can be used to protect the display stand. Tape and cardboard boxes are also needed.
2. Clean the display stand: Before packaging, the display stand should be carefully cleaned to ensure that there is no dust or dirt.
3. Protect the surface of the display stand: Care should be taken not to scratch or damage the surface of the stand when placing it in foam or bubble film.
4. Wrap the stand: Use foam or bubble wrap to wrap the stand, making sure there is enough protection around the stand. Tape the packing material to ensure that the stand does not move during transit.
5. Place in a carton: Select a carton that fits the size of the stand and place the stand in the carton. Place stuffing on the inside of the case to ensure that the stand does not move during transit.
6. Close the box: Close the box with tape and label it "fragile" or "Handle with care".
The above steps will ensure that the display stand is adequately protected during transportation.
What Are The Different Types Of Acrylic Watch Display Stands Available?
An acrylic watch display rack is a commonly used tool for displaying watches, usually made of transparent acrylic material, which can highlight the appearance and design of watches and enhance the display effect. The following are several common types of acrylic watch display stand:
1. Single-layer watch display stands: The simplest acrylic watch display stand, made of a single layer of acrylic sheets, can be used to display a single watch or a small number of watches.
2. Multi-layer watch display stand: Made of two or more layers of acrylic sheet, it can display multiple watches at the same time, and the number of layers can be freely combined according to needs.
3. Rotating watch display stand: An acrylic watch display stand with a rotating function, the watch can rotate freely with the rotation of the display stand, attracting the eyes of the audience.
4. Step watch display stand: made of multiple acrylic layers of different heights superimposed, watches can be placed on display boards of different heights in turn to enhance the display effect.
5. Wall hanging watch display stand: an acrylic watch display rack can also be made into a wall hanging, convenient in-the-store display watch, but also can save space.
6. Transparent box watch display stand: The acrylic sheet is made into a box shape and the watch is placed in it, which not only protects the watch but also allows the audience to observe the appearance and design of the watch from all angles.
How To Clean An Acrylic Watch Display Stand?
Clear acrylic watch display stands need to pay attention to the following points:
1. Use a soft clean cloth or sponge to clean, not rough, or grainy cloth to avoid scratching the acrylic surface.
2. Avoid chemical cleaners such as organic solvents or alcohol, which may discolor or yellow the surface of the acrylic.
3. First gently wipe the surface of the table frame with warm water or detergent to remove dust and dirt.
4. If there are stubborn stains, you can use a special acrylic cleaner, but be careful to follow the instructions of the cleaner and avoid using too much or for too long.
5. After wiping, gently dry the surface of the table rack with a clean dry cloth or paper towel to avoid water stains leaving traces.
In general, cleaning an acrylic watch display stand needs to be gentle and careful, taking care to avoid scratching and discoloration.
How To Prevent Acrylic Watch Display Stand Yellow?
Acrylic watch display frame yellowing is caused by ultraviolet radiation and oxygen reaction in the air for a long time. In order to prevent the acrylic watch display frame from yellowing, the following points can be considered:
Avoid long-term exposure to the sun: acrylic is prone to ultraviolet radiation and yellow, so should try to avoid the watch display rack for a long time exposure to the sun, especially in the outdoor or direct sunlight indoor environment.
Regular cleaning: acrylic watch display rack surface accumulation of dust, dirt, oil stains and so on May also affect the quality of the acrylic, should be cleaned regularly display rack, in order to maintain its luster.
Use professional detergent: When cleaning the acrylic watch display rack, use professional detergent, and avoid using a detergent containing alcohol, solvents, and other harmful chemicals, so as not to cause damage to acrylic.
Try to avoid high-temperature environments: acrylic watch display frame is also susceptible to high-temperature environments, so should try to avoid the display frame in a high-temperature place.
Regular replacement: if the acrylic watch display frame has turned yellow, it should be replaced in time, so as not to affect the display effect and beauty of the watch.
Other Types of Acrylic Display Stand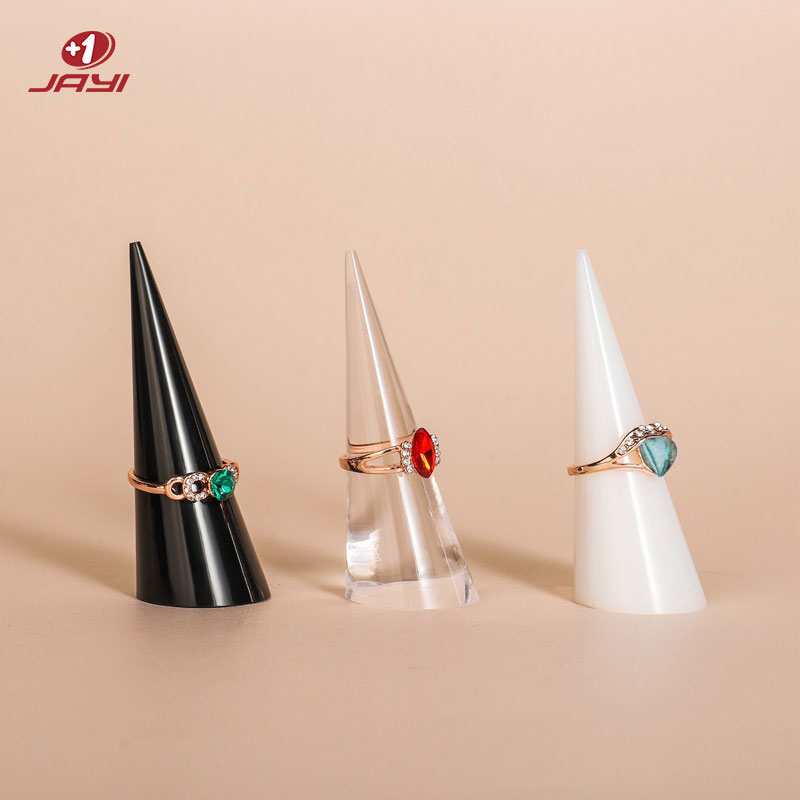 Custom Acrylic Ring Display Stand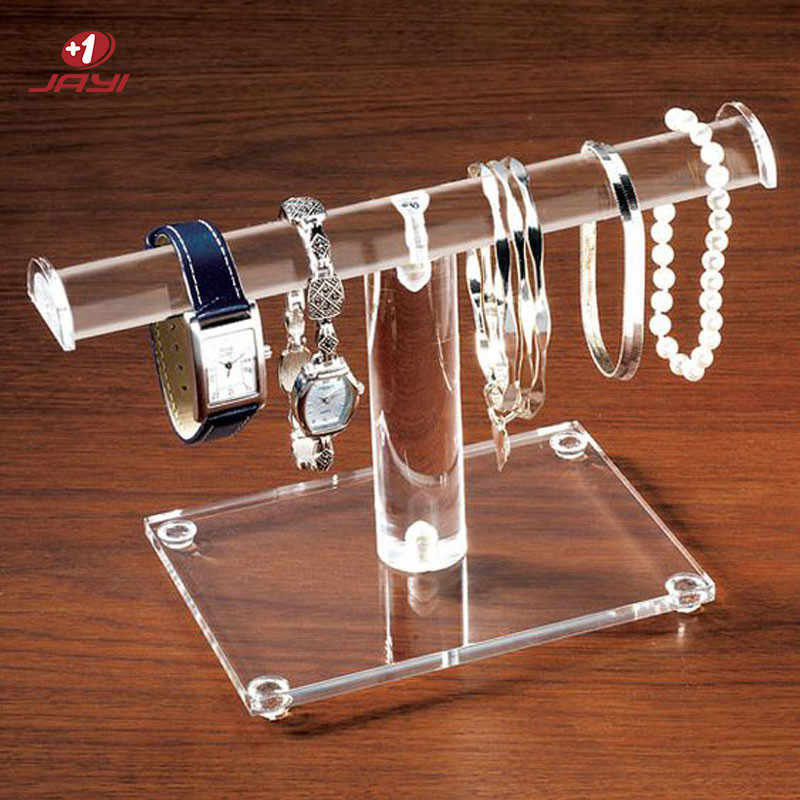 Custom Acrylic Bracelet Display Stand
Other Types of Acrylic Products