China Custom Acrylic Cosmetic Display Solutions Supplier
Jayi Acrylic is known in China for our quality products. We are a manufacturer and supplier of custom acrylic cosmetic display stands sold to a wide range of businesses in China. We sell wholesale directly from our factories worldwide and can provide you with the perfect large, small, or custom-sized acrylic cosmetic display. If you are not sure where to start, please contact us for a free consultation.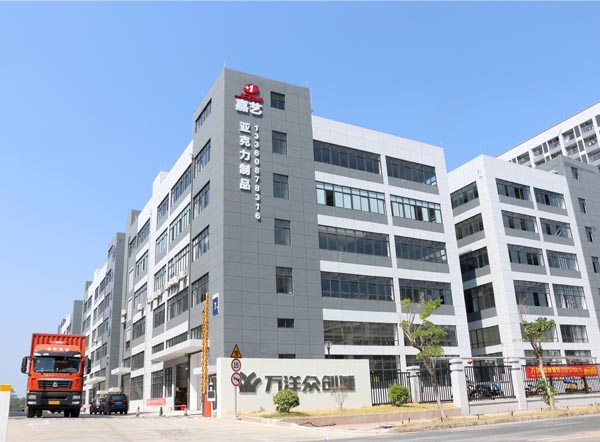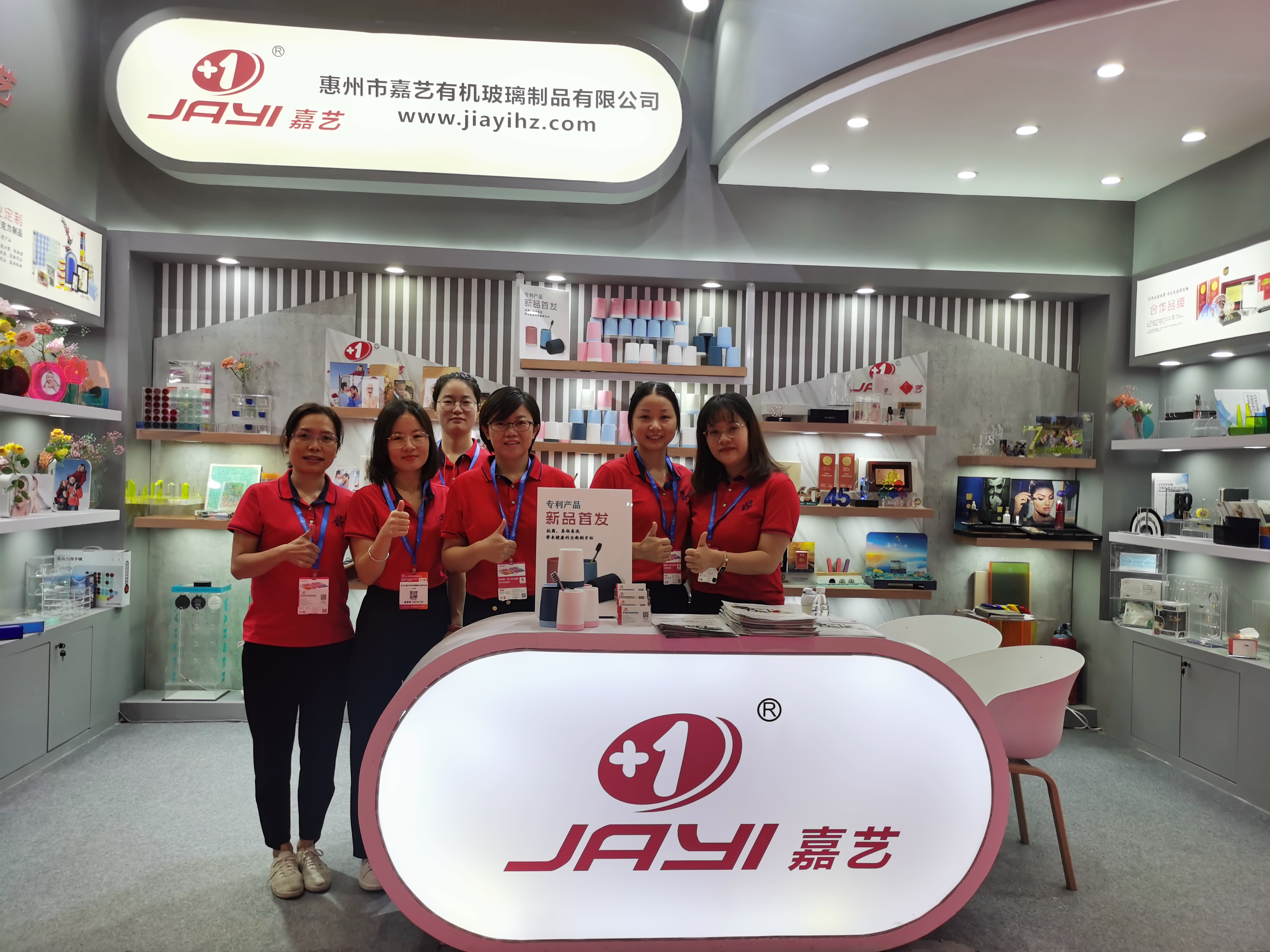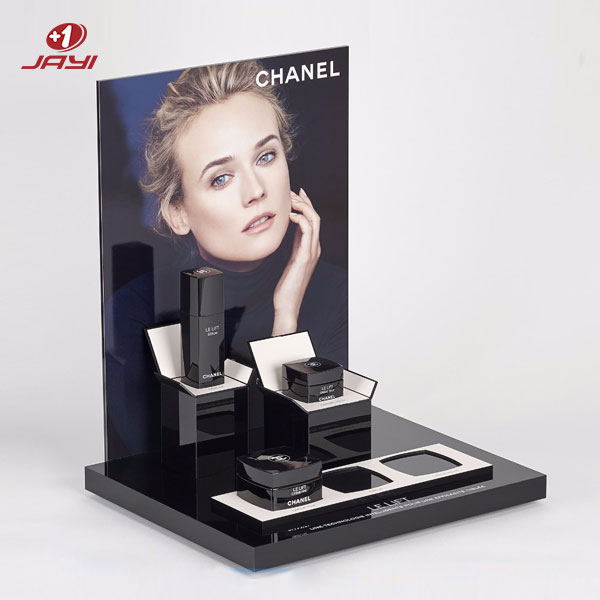 This is an exquisite acrylic cosmetics display rack, it is made of high-quality acrylic material, smooth appearance, has high transparency, is not easy to damage, and also has strong durability and stability. The whole display shelf adopts a modern simple style design, simple shape, and generous, in line with the fashion trend.
Custom You Acrylic Cosmetic Display
JAYI ACRYLIC provides exclusive designers for all of your acrylic cosmetic displays. As a leading manufacturer of custom acrylic products in China, we are pleased to help you provide high-quality acrylic cosmetic display suitable for your business.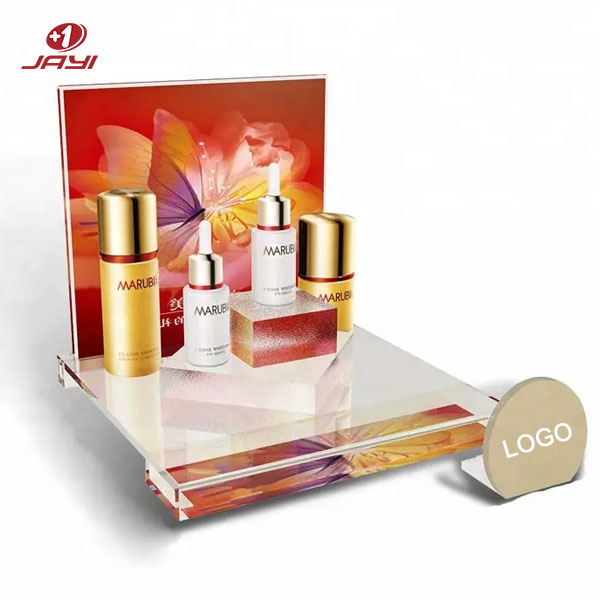 Acrylic Cosmetic Display Custom
Acrylic Logo Cosmetic Display Stand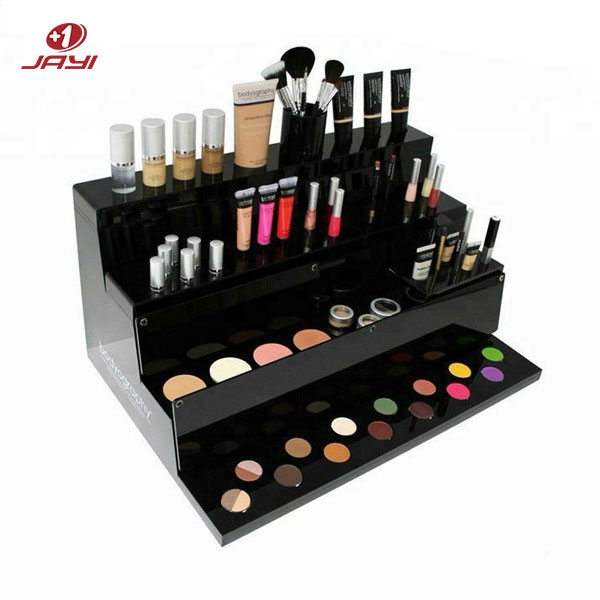 4 layers Acrylic Cosmetic Display Stand
Acrylic Cosmetic Display Rack Factory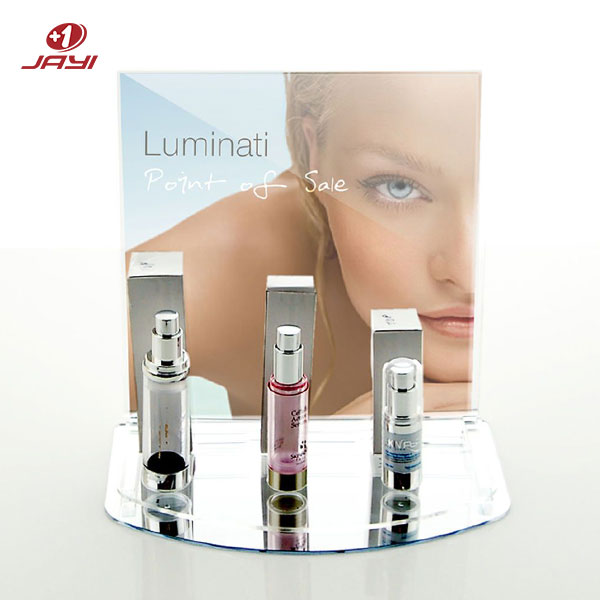 Acrylic Cosmetic Display Stand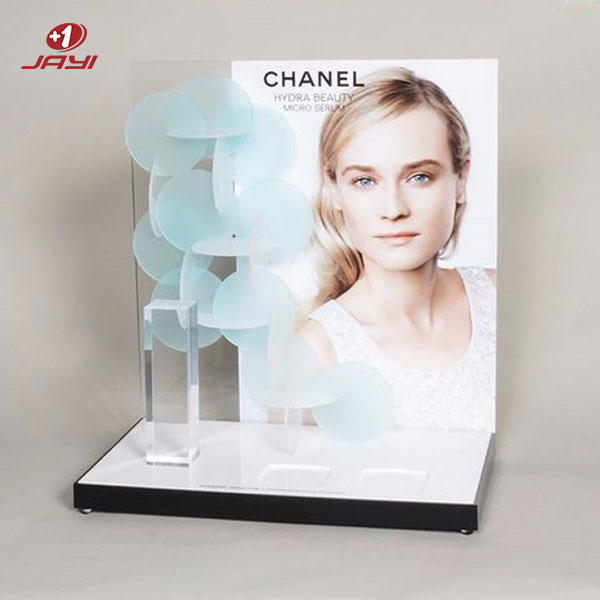 Acrylic Cosmetic Display Supplier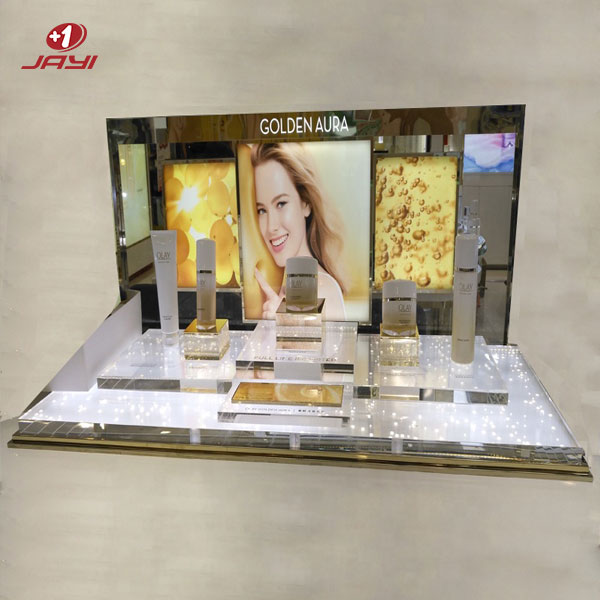 Retail Acrylic Cosmetic Display Stand
Acrylic Cosmetic Display Factory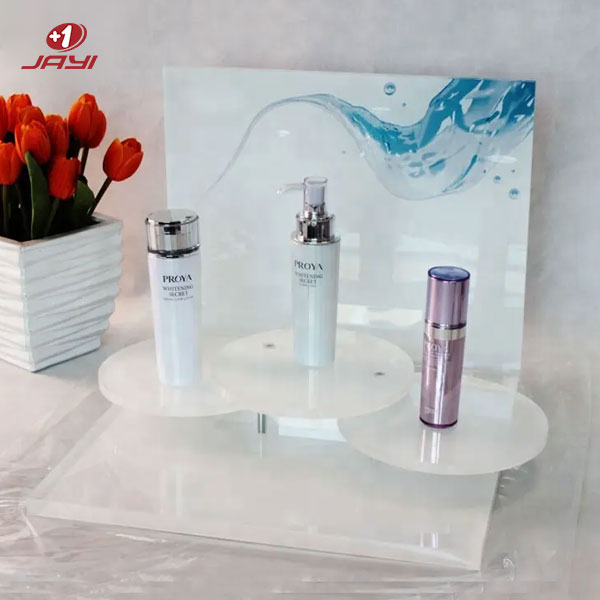 Acrylic Counter Top Cosmetic Display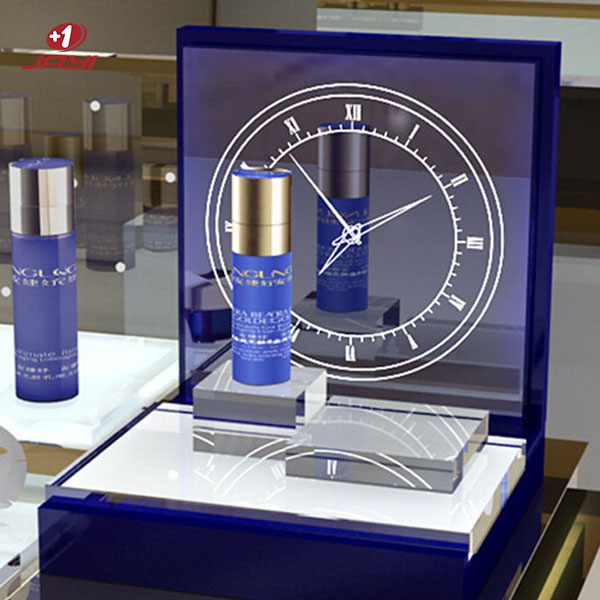 Customized Cosmetic Acrylic Display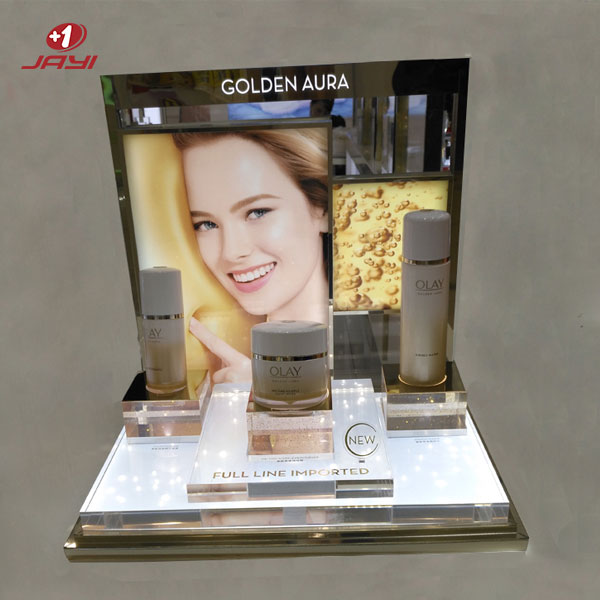 Acrylic Cosmetic Display Manufacturer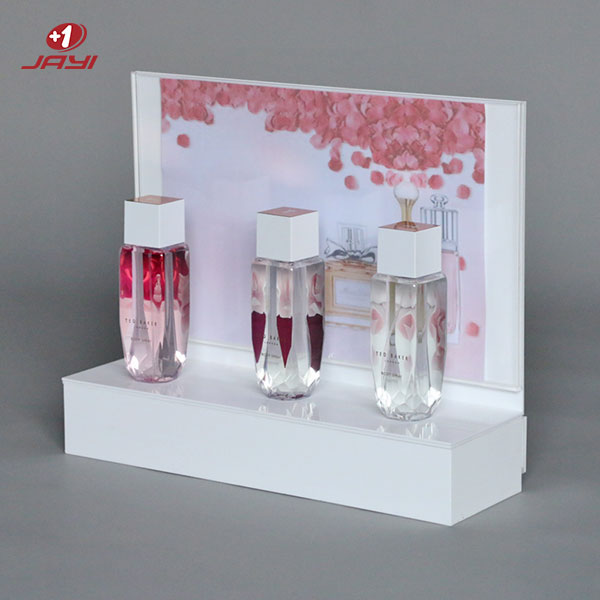 OEM Cosmetic Acrylic Display
Advantages of Our Custom Acrylic Cosmetic Display
Whether stylish or elegant, Jayi Acrylic cosmetic displays are glamorous and we employ innovative technology and excellence in craftsmanship to ensure that our acrylic cosmetic display stands are of high quality.
The cosmetics industry is very competitive, and to get into it, you have to be noticeable. We have the expertise and talent to help you achieve effective, optimal solutions to help you increase brand awareness and sales. Here are some benefits of the custom acrylic display we manufacture that make our acrylic cosmetic displays stand out from the competition:
Strong Durability
Acrylic cosmetic display stands are made of high-quality acrylic materials with strong durability and can withstand the weight and wear and tear during everyday use.
High Transparency
Acrylic material has high transparency, so that the cosmetics on the display shelf can be fully displayed, increasing the display effect and attraction.
Easy to Clean
Acrylic cosmetic display racks have a smooth surface that is easy to clean and maintain and can be cleaned easily with a damp cloth or acrylic cleaner.
Safe and non-toxic
Acrylic material is safe and non-toxic, so the acrylic cosmetic display can be used with ease. Unlike other plastic cosmetic displays, acrylic does not release harmful substances.
Low Maintenance Cost
Due to their durability and ease of cleaning, acrylic cosmetic display racks are low maintenance and can save time and cost.
Longer Life 
Jayi Acrylic Cosmetic Display features incredible structural strength. This ensures that they have the sturdiness your store needs. They have a service life of 5-10 years (longer than wooden, metal, and other materials displays). Also, they don't turn yellow or fade quickly, even after years of use.
Brand Promotion Tool
Custom acrylic cosmetic display racks are very effective ways and tools to help you attract consumers. Better presentation of the visual effects of cosmetics can quickly catch the eye of customers and guide them into your store. In addition, they are important branding tools that can help you increase your marketing share. Specialty stores, shopping malls, cosmetic chain stores, duty-free shops, and cosmetic retail stores are suitable for the use of customized cosmetic display racks.
Can Be Customized
Jayi Acrylic custom display to fit the characteristics of your makeup. Therefore, it can effectively showcase your brand and leave a lasting impression in the minds of customers. In addition, at Jayi Acrylic, we can integrate your product information and features. This will highlight the features, features, and strengths of your makeup.
Versatility
Our custom acrylic cosmetic displays are designed with function, aesthetics, and quality in mind. Therefore, we will provide you with versatile acrylic display racks that can hold cosmetics of different shapes, sizes, weights and designs. The acrylic cosmetic displays we make are ideal for storing the following products:
  • Skincare products
  • Perfume
  • Sunscreen
  • Foundation
  • Concealer
  • Eyebrow pencil
  • Facial cleanser
  • Lipstick
  • Eye shadow
  • Loose powder
  • Mascara
  • Eyeliner
  • Eyelash
  • Blush
  • Makeup spray
How to Custom Acrylic Cosmetic Display?
Just 8 Easy Steps to Start Your Project
Size:  We will ask you about the size of the acrylic cosmetic display. To ensure that the product size is the size you want. Usually, you need to specify whether the size is internal or external.
Delivery Time: How soon would you like to receive the customized acrylic cosmetic display? This is important if this is an urgent project for you. Then we'll see if we can put your production before ours.
Materials Used: We need to know exactly what materials you want to use for your product. It would be great if you could send us samples to examine the materials. That would be very helpful.
In addition, we need to confirm with you what kind of LOGO and pattern you want to be printed on the surface of the acrylic cosmetic display.
Based on the details you provided in Step 1, we will provide you with a quote.
We are a supplier of customized Acrylic products such as acrylic vases in China.
Compared with small manufacturers and factories, we have huge price advantages.
Samples are very important.
If you get a perfect sample, then you have a 95% chance of getting a perfect product in the batch production process.
Usually, we charge a fee for making samples.
After we confirm the order, we will use this money for your mass production cost.
We need about one week to make the sample and send it to you for confirmation.
After you confirm the sample, things will go smoothly.
You pay 30-50% of the total production cost, and we start mass production.
After the mass production, we will take high-definition pictures for your confirmation, and then pay the balance.
Even if you order more than tens of thousands of units, this usually takes about a month.
Jayi Acrylic is proud of its ability to produce acrylic cosmetic displays and other customized acrylic display products.
Even the product requires a lot of manual work.
After the completion of mass production, you are welcome to visit our factory.
Usually our clients ask us to take high-quality photos for them to confirm.
Our factory supports third-party inspection
With regard to shipping, all you need to do is find a good shipping agent to handle shipping acrylic cosmetic displays for you. If you don't want to worry about it, we can recommend you a freight forwarder for customers in your country/region. This will save you money.
Please inquire about the freight: The freight will be charged by the shipping agency and calculated according to the actual volume and weight of the goods. After mass production, we will send the packing data to you, and you can inquire with the shipping agency about the shipping.
We issue the manifest: After you confirm the freight, the freight forwarder will contact us and send the manifest to them, then they will book the ship and take care of the rest for us.
We send you the B/L: When everything is finished, the shipping agency will issue the B/L about a week after the ship leaves the port. Then we will send you the BILL of LADING and telex together with the packing list and commercial invoice for you to pick up the goods.
  Still confused by the custom acrylic cosmetic display ordering process? Please contact us immediately.
Work Process for Custom Acrylic Cosmetic Display
There are several high-quality custom acrylic product manufacturing and finishing services to enjoy from JAYI Acrylic.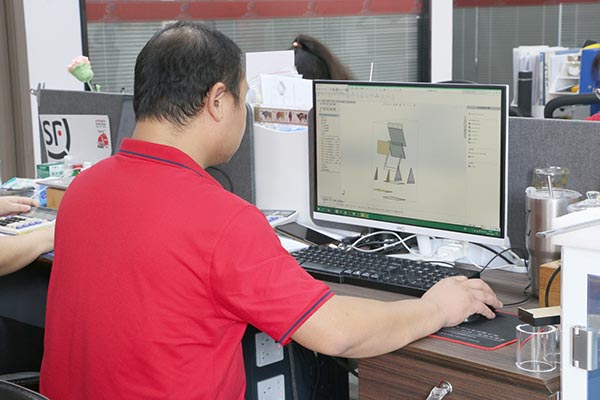 Adequate guidance through each manufacturing stage.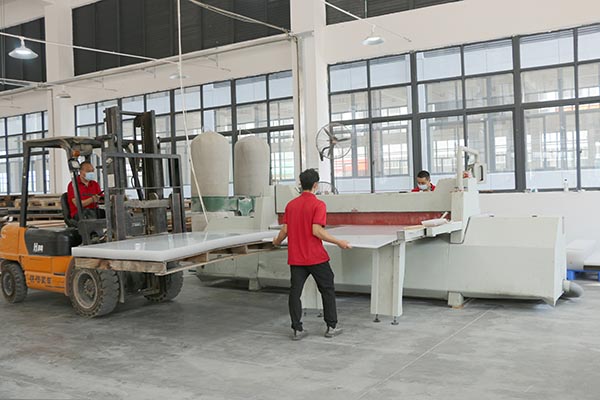 Custom cut-to-size services to meet unique requirements.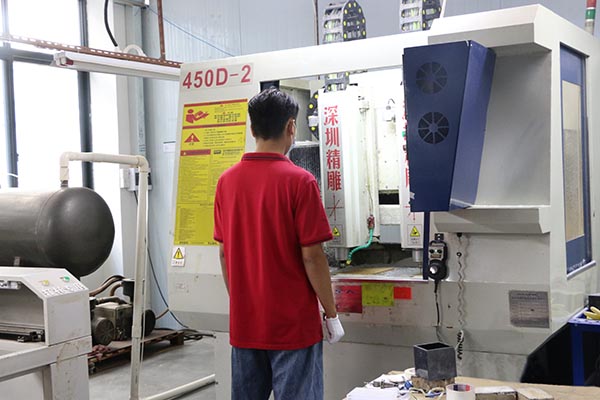 First-class CNC routing services that meet various tolerances.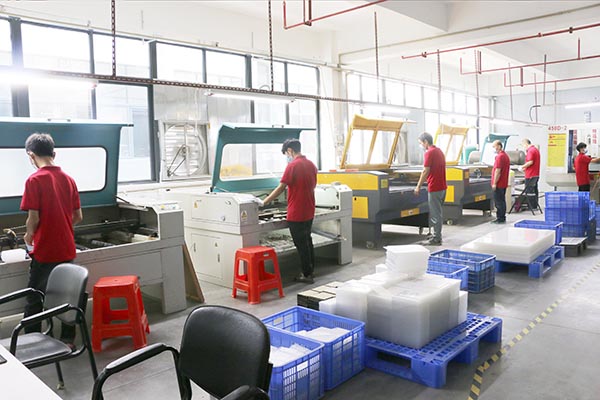 Precision laser cutting technology to cut out shapes to client satisfaction.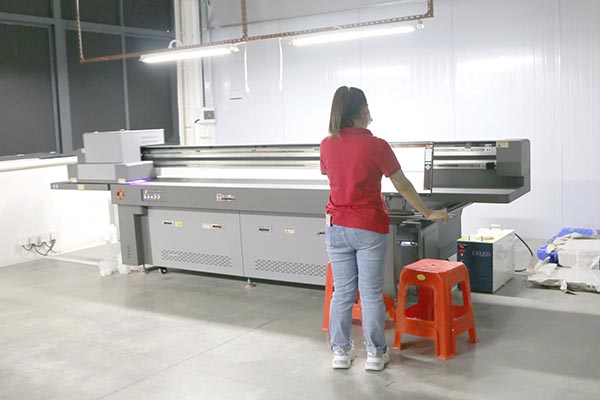 Printing for more vibrant color on various surfaces.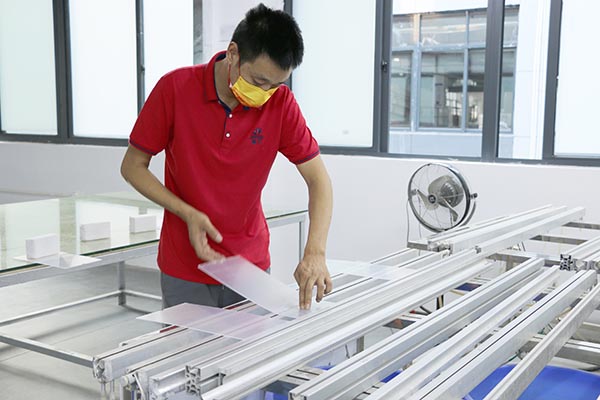 Achieving seamless and unique shapes with specially designed molds for limitless applications.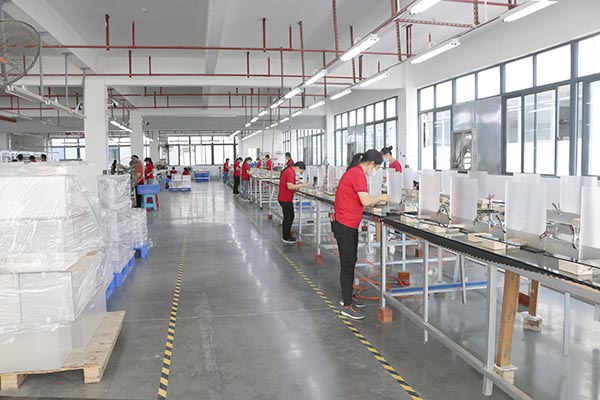 Achieving seamless and unique shapes with specially designed molds for limitless applications.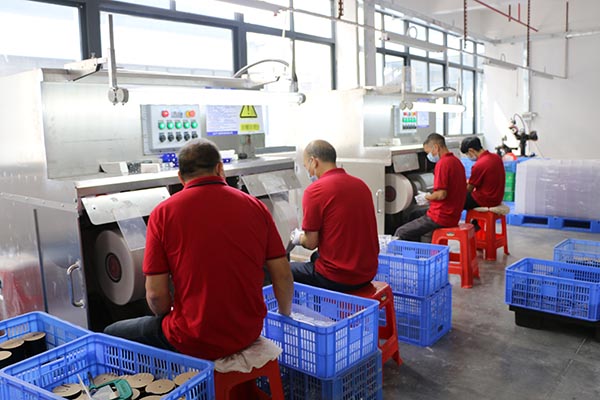 Smooth and glossy polished finished for aesthetically pleasing products.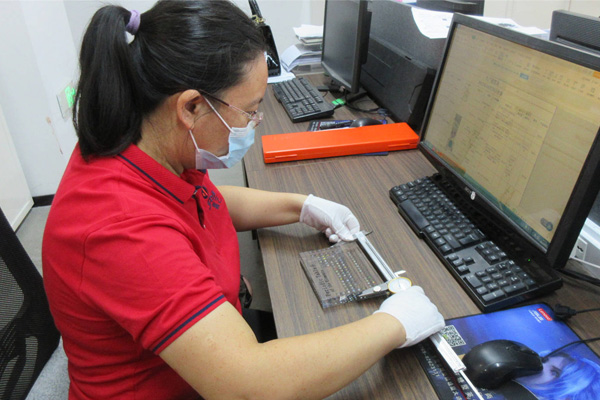 After the production of acrylic products need to carry out a comprehensive inspection to ensure that the product is high quality.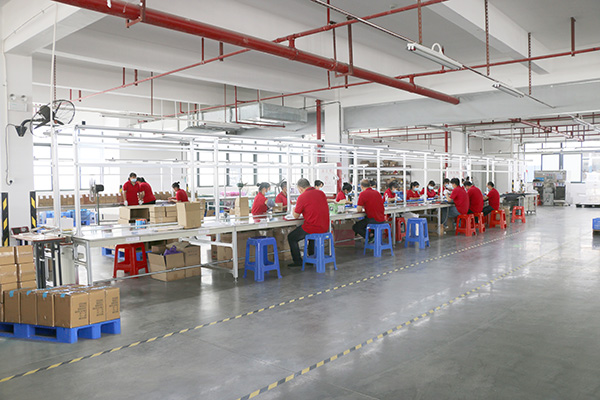 We customize the outer packing according to the customer's requirements.
Don't You Find What You Are Looking For?
Just tell us your detailed requirements. The best offer will be provided.
Professional Custom Acrylic Products Manufacturer
 Jayi Acrylic was founded in 2004, as a leading acrylic display supplier in China, we are committed to producing acrylic products with unique design, advanced technology, and complete processing., we have always been committed to custom acrylic products with unique designs, advanced technology, and perfect processing.
We have a factory of 6000 square meters, with 100 skilled technicians, 80 sets of advanced production equipment, all the processes are completed by our acrylic display factory. We have a professional design engineering research and development department, and a proofing department, that can design free of charge, with fast samples, to meet the needs of customers. We have a variety of exquisite modeling of acrylic boxes, acrylic display racks, acrylic games, acrylic home storage, acrylic office storage, and acrylic pet products for your choice.
From designing to manufacturing and finishing, we combine expertise and advanced equipment to deliver high-quality products. Every custom acrylic product from JAYI Acrylic stands out in appearance, durability, and cost. 
Frequently Asked Questions About Custom Acrylic Cosmetic Display
1. Can I order one piece for a sample to test the quality?
Yes. We recommend checking the sample before mass production. Please inquire us the about the design, color, size, thickness and etc.
2. Could you do a design for us?
Yes, We have a professional team having rich experience in mock-ups. Please tell me your ideas and we will help to realize your designs perfectly. Just send us high-resolution images, your logo, and text, and tell me how you would like to arrange them. We will send you the finished design for confirmation.
3. How long can I expect to get the sample?
After you pay the sample fee and send us the confirmed files, the samples will be ready for delivery in 3-7 days.
4. How and when can I get the price?
Please send us the details of the item, such as dimensions, quantity, crafts finishing. We usually quote within 24 hours after w get your inquiry.If you are very urgent to get the price, please call us or tell us your email,so that we will give priority to your inquiry.
5. Can you realize our Customized Design or put our Logo on the product?
Sure, we can do this in our factory. OEM or/and ODM are warmly welcomed.
6. What kind of files do you accept for printing?
PDF, CDR, or Ai. Semi-Automatic PET Bottle Blowing Machine Bottle Making Machine Bottle Moulding Machine PET Bottle Making Machine is suitable for producing PET plastic containers and bottles in all shapes.
7. Which kind of payment do you support?
We can accept PayPal, bank transfers, western union, etc.
8. What's the shipping cost?
Usually, we ship the acrylic cosmetic display by express, such as Dedex, TNT, DHL, UPS, or EMS. We will offer you the best package to protect your goods.
Large orders must use sea shipping, we can help you handle all kinds of shipping documents and procedures.
Please let us know the quantity of your order, as well as your destination, then we can calculate the shipping cost for you.
9. How can you make sure we will receive the products with high quality?
( 1 ) High-quality international standard materials.
( 2 ) Skillful workers with rich experience for more than 10 years.
( 3 ) Strictly quality control for each production process from material purchasing to delivery.
( 4 ) Production images and videos can send you as soon as fastest.
( 5 ) We also warmly weclome you visit to our factory anytime.
Certificates From Acrylic Cosmetic Display Manufacturer And Factory
We are the best wholesale custom acrylic cosmetic display factory in China, we provide quality assurance for our products. We test the quality of our products before final delivery to our customers, which also helps us maintain our customer base. All of our acrylic products can be tested according to customer requirements (eg: ROHS environmental protection index; food grade testing; California 65 testing, etc.). Meanwhile: We have SGS, TUV, BSCI, SEDEX, CTI, OMGA, and UL certifications for our acrylic cosmetic display distributors and acrylic cosmetic display stand suppliers around the world.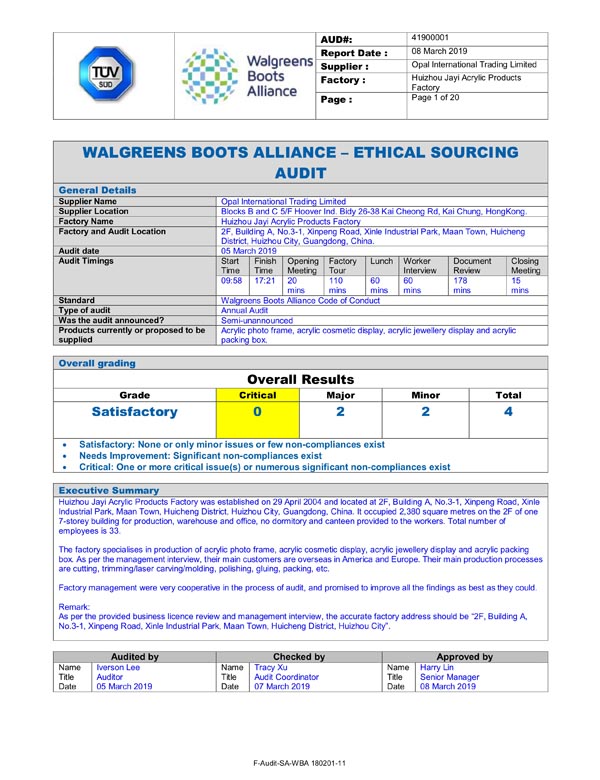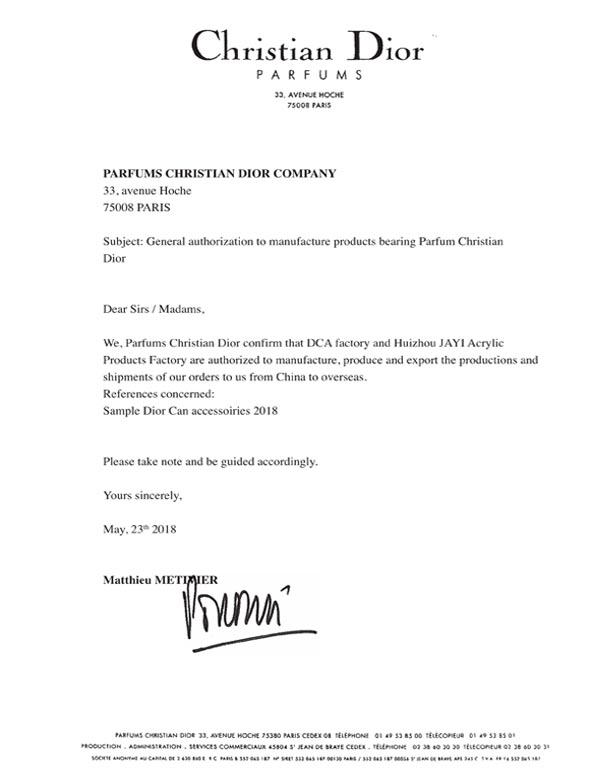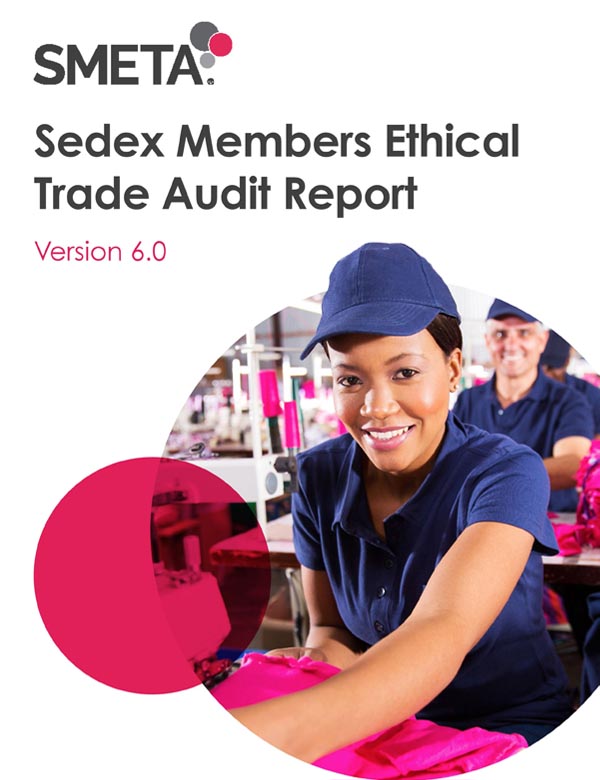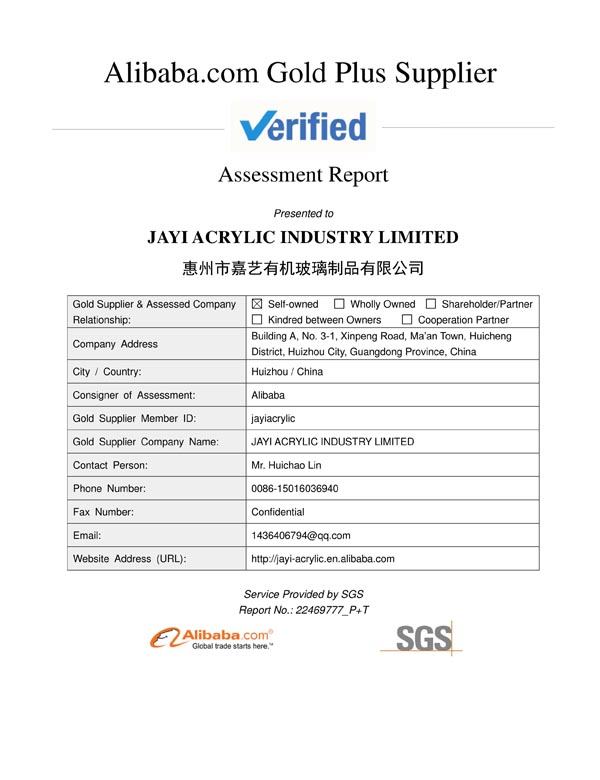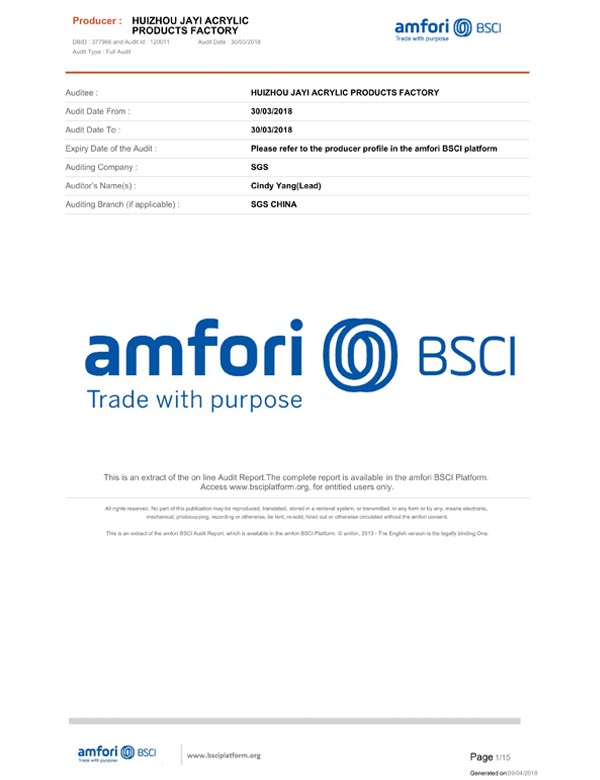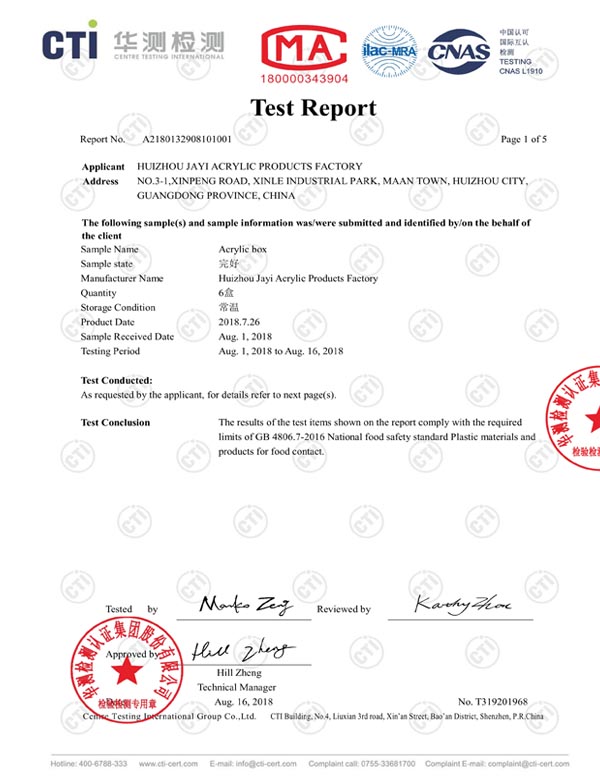 Partners From Acrylic Cosmetic Display Supplier
  Jayi Acrylic is one of the most professional Plexiglass Products Suppliers & Acrylic Custom Solution Service Manufacturers in China. We are associated with many organizations and units due to our top-quality products and advanced management system. Jayi Acrylic was started with a single purpose: to make premium custom acrylic display stand products accessible and affordable for brands at any stage of their business. Partner with the world-class acrylic products factory to inspire brand loyalty across all your fulfillment channels. We are being loved and supported by many world top companies.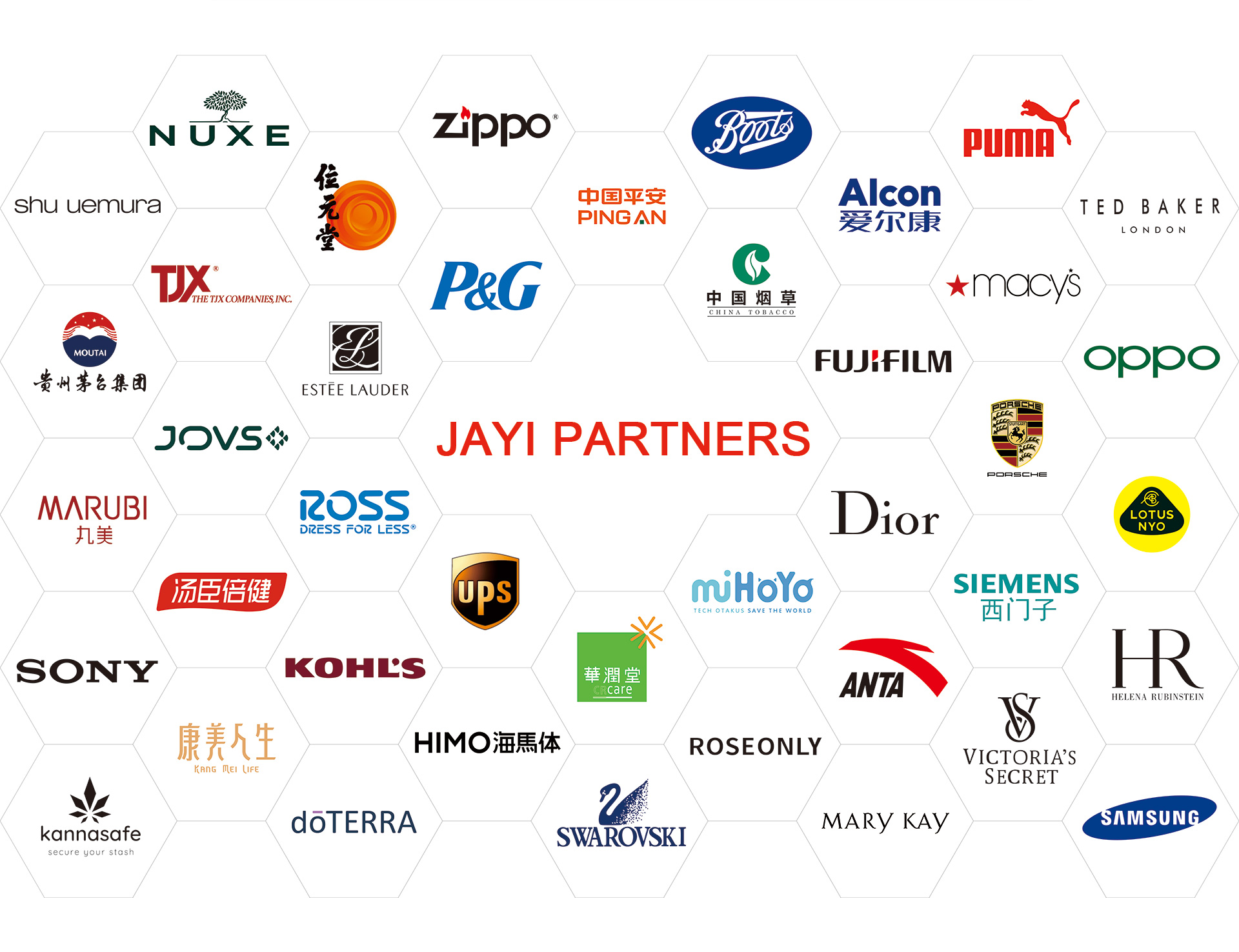 Custom Acrylic Cosmetic Display: The Ultimate Guide
How do I present my cosmetics retail?
Cosmetics companies rely on packaging design to differentiate themselves from other brands. The custom acrylic cosmetics organizers and display stations are a great way to showcase different brands and their unique packaging in a retail environment. Custom acrylic is durable and easy to clean, ideal for cosmetic displays.
How do I arrange my cosmetics store?
There are several factors to consider when arranging a cosmetics store. One factor is retail space. You want to display as many makeup products per square foot as possible to maximize potential revenue. Optimize retail space with floor, countertop, and wall-mounted acrylic cosmetic displays. Pair these acrylic displays with makeup product-specific risers for best results.
Another factor is the flow of people. Cosmetic stores should arrange permanent facilities that provide easy access to products and encourage customers to walk around the store. Consider using floor-to-ceiling signs for wayfinding and floor-to-ceiling retail displays to increase impulse buying.
Why use an acrylic cosmetic display Rack?
The use of acrylic cosmetics display rack has the following advantages:
1. High transparency: acrylic material has the characteristics of high transparency, can make the cosmetics on the display shelf clearly visible, more beautiful and generous, attract the attention of consumers
2. Strong durability: acrylic material has high hardness and durability, is not easy to wear, deform, and fade, and can ensure the long-term use of the display rack.
3. High safety: acrylic material has good safety, not easy to crack and scratch the human body, can avoid consumer complaints and safety accidents caused by display shelf safety problems.
4. Good processing performance: acrylic material is easy to process and shape, can make a variety of shapes, sizes, colors of cosmetic display rack, to meet the needs of different businesses.
5. Good environmental protection: acrylic material has better environmental protection, does not contain harmful substances, can be recycled and recycled.
Therefore, the use of acrylic cosmetic display rack can improve the effect and quality of cosmetic display, help businesses increase sales and revenue, but also can provide consumers with better shopping experience and security.
How will you pack the acrylic cosmetic display?
The specific way of packaging acrylic cosmetic display racks may vary depending on the manufacturer, mode of transportation, and destination. Here are some possible packaging methods:
Use foam boards and bags: Place acrylic cosmetic display racks on foam boards, wrap them in foam bags, and secure them with tape. This way of packaging can effectively prevent the acrylic display rack from being impacted and damaged in the process of transportation.
Use bubble wrap: Wrap the acrylic cosmetic display rack in bubble wrap and then secure it with tape. Bubble wrap provides additional protection and ensures that the display stands are not damaged in transit.
Use wooden boxes or cartons: Place the acrylic cosmetic display stand in a wooden box or carton, then fill the case with foam or other stuffing to prevent the display stand from moving or being damaged during shipping.
No matter which packing method is used, "fragile", "Handle with care", or other similar signs should be marked on the exterior to remind transportation personnel to handle the package with care.

Is acrylic cosmetic display stand durable?
Acrylic is a very durable and strong material, it is more resistant to impact and wear than glass, and not easy to break. As a result, acrylic cosmetic display stands are usually more durable than those made of other materials.
In addition, the acrylic display stand has a beautiful appearance and transparency, making the cosmetic display more attractive, and suitable for a variety of different commercial and retail places.
It is important to note that although acrylic cosmetic display racks are very strong, they still require proper care and maintenance to maximize their service life. For example, cleaners containing alcohol and other chemicals should be avoided to avoid damaging the acrylic surface.
Is the acrylic cosmetic display stand easy to clean and maintain?
Acrylic (also known as polymethyl methacrylate) is a plastic material that is clear, strong, and easy to clean, so acrylic cosmetic display stands are also generally easy to clean and maintain.
Here are some reasons why acrylic cosmetic display stands is easy to clean and maintain:
1. Acrylic has a smooth surface that doesn't leave any scratches or dents, which makes cleaning easier.
2. Acrylics are not damaged or discolored by the use of cosmetics or other cleaning products, which also reduces maintenance costs.
3. Acrylics are very durable and do not wear or break easily, which means they can be used for a long time without frequent replacement.
4. Acrylic is lightweight and easy to move and rearrange display stands.
Therefore, acrylic cosmetic display racks are an easy-to-clean and maintain option. However, ensure proper cleaning and maintenance, and avoid using cleaning products and tools that are too aggressive, such as rough cloth or brushes, so as not to scratch or damage the acrylic surface.
Does the acrylic cosmetic display stand to have a lighting function?
Yes, many acrylic cosmetic display racks have lighting features. These lighting features usually use LED lights or other types of bulbs to provide enough light to illuminate the cosmetics on display, thus highlighting their appearance and features. These lights can also enhance the visual effect of the entire display stand, making it more noticeable in the store environment. Some acrylic cosmetic display holders even have adjustable lighting features to make the display more personalized and professional.
Acrylic cosmetics display stand can put how many products?
Acrylic cosmetic display stand capacity depends on its size and design. In general, the size of display stands can be customized to suit the quantity and size of different brands.
Some smaller display stands can hold dozens of products, while larger ones can hold hundreds. In addition, some display stands are designed to be multi-layered or rotatable, allowing more efficient use of space and increasing the number of products on display.
Therefore, an acrylic cosmetics display rack can put many products, depending on the size and design of the display rack you choose.
Other Types of Acrylic Display Stand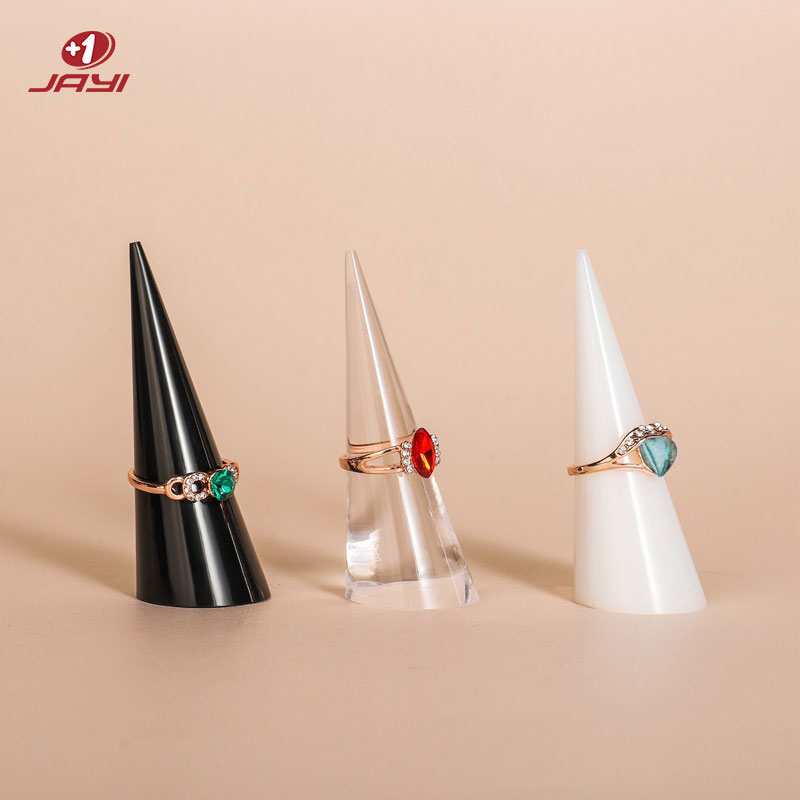 Custom Acrylic Ring Display Stand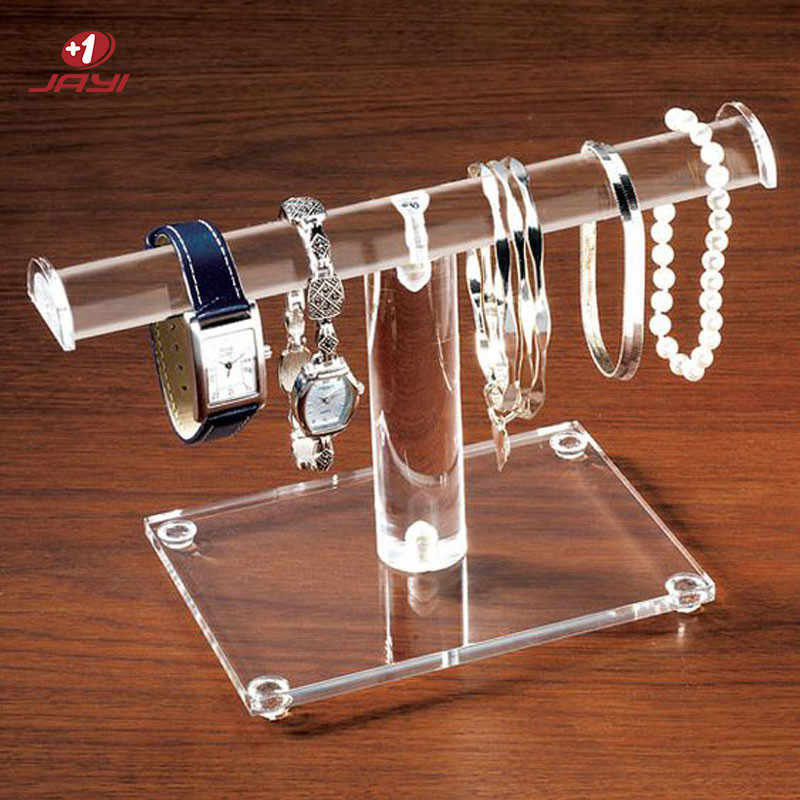 Custom Acrylic Bracelet Display Stand
Other Types of Acrylic Products